Roberto Luongo switches agents, signs on with CAA Sports
On Wednesday it was announced that Roberto Luongo has switched agents. That's not comforting for the Canucks, is it?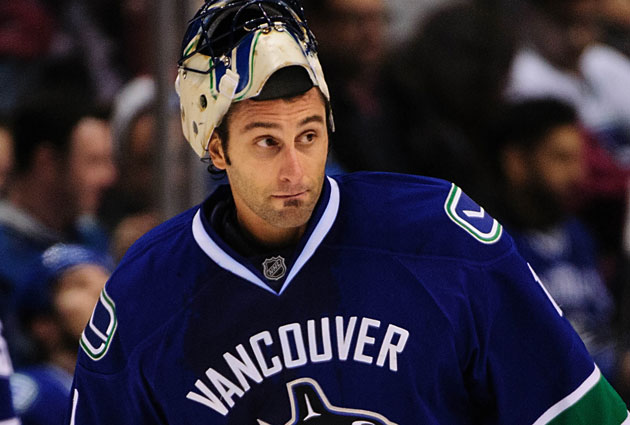 More NHL offseason: Rumors | Top 50 Free Agents | Buyout Tracker | Trades | Transactions
On Tuesday night, Canucks GM Mike Gillis addressed the situation surrounding his goaltender Roberto Luongo, saying he has "full confidence" he will be with the team no problems for next season. Perhaps Luongo will be back, but his agent won't be. Or at least his old agent won't be.
On Wednesday it was announced that Luongo has changed representation groups and will now be under the guidance of CAA Sports and Pat Brisson and J.P. Barry. Brisson is one of the most high-profile agents in the game, having Sidney Crosby among his high-profile client list.
Immediately everybody wants to know ... what does this mean for the Canucks? It certainly doesn't look good, right? Luongo had seemingly checked out of Vancouver and now he's still there after they traded away Cory Schneider instead?
If I had to guess -- and I stress this is nothing but a guess -- I would imagine this is more about the past than the future. That is to say it's about parting ways with Gillies Lupien after this whole saga turned into more of a fiasco rather than about the forward and still trying to get out of Vancouver. But that idea will surely creep into a lot of people's minds here, too, that this is a move to help Luongo get a change of scenery.
And Gillis thought he alleviated his headache when he traded Schneider to New Jersey. Pfft!
Show Comments
Hide Comments
Our Latest Stories
Duquesne University students show off hockey in skills while chasing a rat from their hous...

Washington has 18 wins during a 21-game stretch, including 12 straight victories at home

The Penguins stud becomes Mr. 1,000 and is the 12th fastest in NHL history to earn the tit...
The interim coach has ridden versatility and a winning track record to a 3-0 start

What did we learn from the deputy commissioner's recent remarks on the NHL?

Another in-season coaching change: What does it mean for the first-place Montreal Canadien...