Russia Olympic team: Alex Ovechkin, Pavel Datsyuk lead home nation
The host Russians unveiled their Olympic roster on Tuesday, a roster split with 15 NHLers, 10 from the KHL.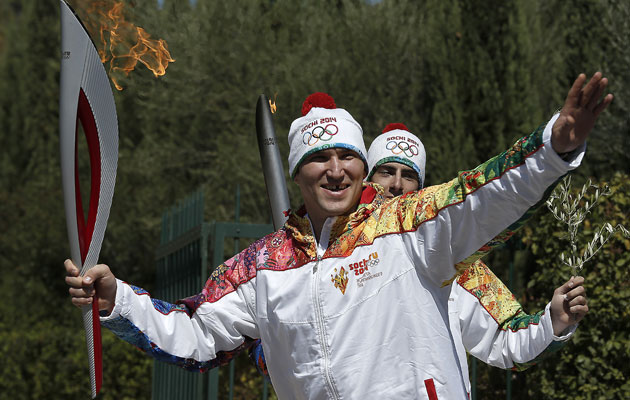 More NHL: Scores | Standings | League Leaders | Odds | Injuries | Power Rankings
With the Olympics being played on Russian soil this year in Sochi, there will be a tremendous amount of pressure on Russia's hockey team to bring home the gold medal. The rosters they have chosen might give them a chance.
In no surprise, the Russian team is filled with a good amount of NHLers but isn't completely made up from the North American league, the KHL is well represented as well. Fifteen of the players are from the NHL, 10 from the KHL.
Here's the roster.
Goaltenders
Sergei Bobrovsky (Columbus Blue Jackets)
Semyon Varlamov (Colorado Avalanche)
Alexander Eremenko (Dynamo Moscow)
Defensemen
Anton Belov (Edmonton Oilers)
Slava Voynov (LA Kings)
Alexei Emelin (Montreal Canadiens)
Andrei Markov (Montreal Canadiens)
Evgeny Medvedev (AK Bars)
Nikita Nikitin (Columbus Blue Jackets)
Ilya Nikulin (AK Bars)
Fedor Tyutin (Columbus Blue Jackets)
Forwards
Artem Anisimov (Columbus Blue Jackets)
Pavel Datsyuk (Detroit Red Wings)
Ilya Kovalchuk (SKA St. Petersburg)
Denis Kokarev (Dynamo Moscow)
Nikolay Kulemin (Toronto Maple Leafs)
Evgeni Malkin (Pittsburgh Penguins)
Valeri Nichushkin (Dallas Stars)
Alex Ovechkin (Washington Capitals)
Alexander Popov (Vanguard)
Alexander Radulov (CSKA Moscow)
Sergei Viktorovich (Dynamo Moscow)
Vladimir Tarasenko (St. Louis Blues)
Alexey Tereschenko (AK Bars)
Viktor Tikhonov (SKA St. Petersburg)
Let's look at the fun part first: who's missing? One noteable name not there is Hurricanes forward Alexander Semin , who was on the team in 2010. Also missing the cut is Capitals prospect Evgeni Kuznetsov, who has remained in the KHL, and the No. 1 overall draft pick from two years ago by the Oilers, Nail Yakupov .
This is an interesting group of players, one with a balance between the two leagues which was something that appeared to be very important to Russia's federation. It's another question on how well that will work but there's no denying the Russians have a lot of talent up front, at least on the top two lines. They should be a dangerous team there.
Defense is a much bigger question mark and could be the culprit if the Russians have any struggles in the tournament. In goal the combination of Bobrovsky and Varlamov -- who is the expected starter -- certainly has the potential to be able to support the defensemen in front of them if they're on their game.
The pressure is going to be immense on the Russians, the biggest question they have will involve how they handle that pressure.
Show Comments
Hide Comments
Ottawa recovers from a 7-0 loss in Game 5 to quiet Pittsburgh's offense

Series schedules, results and updates from the Eastern and Western conference finals

Out for the remainder of the postseason, Johansen is still part of the Predators' playoff...
Nashville refuses to back down despite taking fewer than 20 shots against fill-in goalie Jonathan...

Anaheim will be without two key forwards and possibly its No. 1 goalie in Nashville on Mon...

Pittsburgh makes a fool of Ottawa's top-line defense with four goals in the first period a...