Sabres re-sign John Scott to one-year extension
John Scott, the Sabres' tough guy who had zero points this season, re-signed in Buffalo for one season.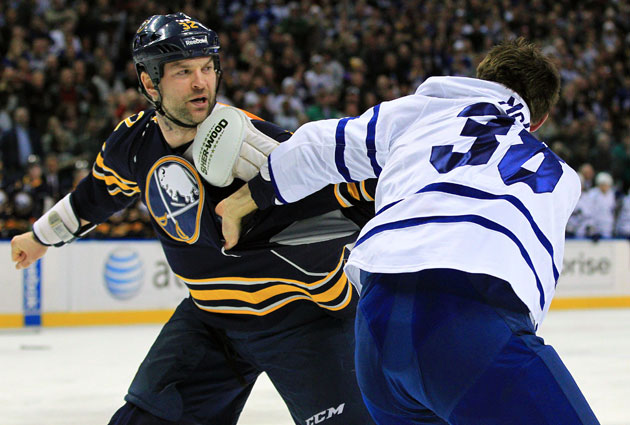 More NHL Playoffs: Scores | TV Schedule | Expert Picks | Odds | Mock Draft | Rumors
The Buffalo Sabres re-signed hulking forward John Scott on Monday to a one-year deal.
The new deal is worth $750,000 according to Ren Lavoie of RDS, an increase from the $600,000 Scott made last season. I guess they liked what they got from Scott despite the fact he was scratched on occasion and averaged fewer than 5 1/2 minutes per game.
In the 34 games he played, Scott failed to register a point, but he's not on the ice for his ability to produce points. He's a big force out there, part of Buffalo's attempt to get tougher last season. The 6-foot-8 enforcer had seven fights last season and racked up 69 penalty minutes, or more than two minutes per game.
Perhaps it helped toughen the team and would explain why he's coming back, but it didn't make much of a difference in the grand scheme of things. I'd rather have a guy who could play every game and produce on my roster but if you're going to employ a guy like Scott, that's not a bad price at all.
Besides, it's not like he's completely without value. That protection angle was hit on by his agent quickly on Monday.
John Scott may not have had a point this season but all #Sabres teammates play 1-2" taller with his 6'8.5"/265 lbs. watching over them! #NHL

— Ben Hankinson (@benhankinson) May 20, 2013
In other words, he is their great protector. Old narratives are fun. I would be really curious to see what kind of difference there was in the opponents' style in games where Scott played vs. games where he didn't. I'd imagine not much different if at all.
With all that said, Scott looks to be one of those good guys to have in the room, a popular teammate and somebody who keeps the atmosphere loose. That has to count for a little something at least. Right?
Really, this is just an excuse to show you this video again.
Show Comments
Hide Comments
Ottawa took a 3-2 decision to send Boston home

Series schedules, results and updates from the first round of the Stanley Cup race

Stevens was L.A.'s interim coach for four games in the 2011-12 season
St. Louis, New York and Edmonton eked out victories that eliminated Minnesota, Montreal and...

Fresh off the Predators' sweep of the Blackhawks, Gnash is fired up for his team

A tougher opponent awaits either Toronto or Washington, and the Bruins hung on to beat Ott...