Sabres retain part of Vanek's salary in deal, Isles' pick conditional
Helping to partly explain the massive cost for Thomas Vanek, the Sabres are retaining part of his salary and the Isles' first-round pick is conditional.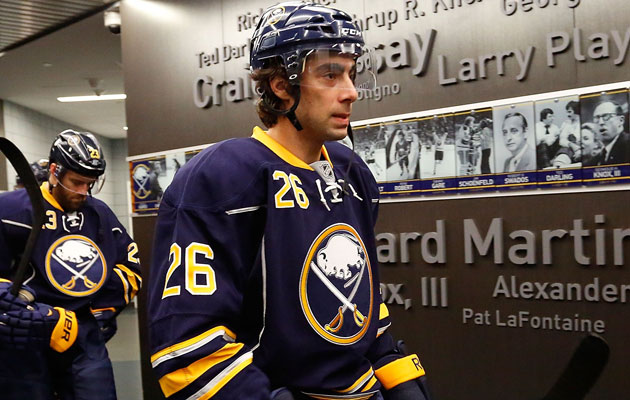 More NHL: Scores | Standings | League Leaders | Odds | Injuries | Power Rankings
Perhaps the New York Islanders didn't get completely swindled in their trade to acquire Thomas Vanek from the Sabres.
When the deal was initially reported and subsequently discussed by the general managers, only the nuts and bolts were discussed. Those nuts and bolts specifically were that Vanek was going to the Islanders while Matt Moulson, a first-round pick in 2014 and a second-rounder pick in 2015 were going to Buffalo.
It seemed ridiculously lopsided in favor of the Sabres. They got a player at a much cheaper cost in Moulson who has actually outscored Vanek over the past couple of years while getting a first- and second-round pick? Amazing haul for GM Darcy Regier.
Now a few more details on the deal are emerging and while it doesn't change the overall dynamics of the deal, it does at least look a little more favorable for the Islanders.
According to Chris Johnston of Sportsnet, the Sabres are retaining part of Vanek's salary in the trade, both his actual salary and his cap hit (which is $7.124 million). A pretty decent amount, too, at 19.5 percent. That means Vanek is coming at a discount of $1.4 million against the cap for the Isles; he'll still a good more than $2 million more than Moulson but not nearly as much as it originally seemed.
Further to that, the first-round pick has a condition according to Pierre LeBrun.
Another wrinkle in the Vanek deal: if the 1st round pick NYI sent Buff ends up top 10 in June, Isles have option to defer the pick to 2015

— Pierre LeBrun (@Real_ESPNLeBrun) October 29, 2013
In the end the pick will still be a first-rounder some time in the next two years, but at least the Islanders have some kind of say over when that pick comes. So it's something.
Still, the trade doesn't look much less lopsided for the Islanders but these revalations do help understand the massive price a little bit, especially the retained salary part. It was unusual to see the Islanders increase their budget by as much as they did; surely the cost was part of the reason why Moulson was included in the deal when picks or a high prospect were what the Sabres were seeking. It's not much of a secret the Islanders keep a tight budget.
Moulson made his debut for the Sabres on Monday night, scoring two goals in a 4-3 Buffalo loss. Vanek will make his first appearance as an Islander on Tuesday night at home against the Rangers.
Show Comments
Hide Comments
The back-to-back Olympic champs are looking for more hardware on home ice

The NHL has plenty riding on the rebooted World Cup, but what will make it a success?

Johnny Gaudreau, Nikita Kucherov among key RFAs still waiting on a new contract
Goalies are used to stealing goals, this one stole a bunch of beer

Lucic signs with Oilers, Okposo goes to Buffalo, Bruins land Backes

The Magic Man is feeling right at home with SKA St. Petersburg