San Jose Sharks will travel more than 57,000 miles in 2013-14
The San Jose Sharks have a brutal travel schedule for the 2013-14 season, having to go more than 57,000 miles over the course of the season.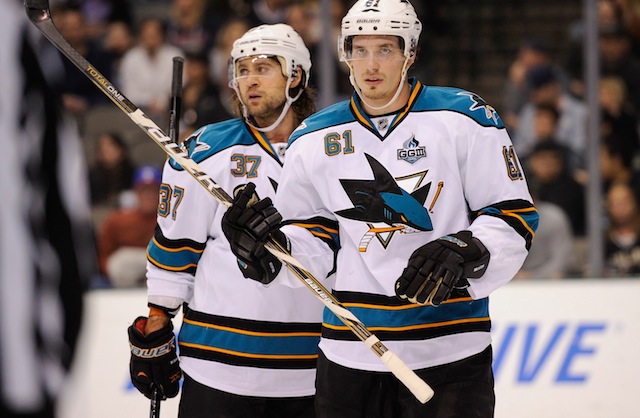 More NHL offseason: Rumors | Top 50 Free Agents | Buyout Tracker | Trade Tracker
We know that NHL teams, particularly those on the West Coast, have to travel quite a bit during the season.
Now that we finally have a schedule for the 2013-14 season we know just how many miles each team will have to log this season thanks to the wonderful work from Dirk Hoag of On The Forecheck, a blog dedicated to covering the Nashville Predators.
Hoag compiles the NHL's "Super Schedule" every summer, which includes total miles and the number of back-to-back games teams have to play, and it's always pretty fascinating.
The findings this season:
• During the 2013-14 season the San Jose Sharks will log more travel miles than any other team in the league, traveling 57,612 miles. During their last full 82-game schedule in 2011-12 they traveled just 43,994.
• The Detroit Red Wings, who will be making the move to the Eastern Conference this season, will travel 35,324 miles, down from the 42,865 they went in '11-12.
• The lightest travel schedule belongs to the two teams based in New York City, with the Islanders traveling just 29,993 miles and the Rangers, who have the lightest travel schedule in the league, going just 29,839. That's nearly half of what the Sharks will have to do.
• The average NHL team will travel 41,390 miles in 2013-14.
• As far as the back-to-backs go, no team plays more than the New Jersey Devils' 22, while the Sharks and Avalanche play a league-low 10. Guess that kind of makes up for the grueling travel schedule if you're San Jose. Along with having the lightest travel schedule, the Rangers play only 13 back-to-back games, just below the NHL average of 15.
Check out every team's information by clicking here. It's pretty interesting.
Show Comments
Hide Comments
Our Latest Stories
Chicago becomes the ultimate road warrior, while the Pens look to stay healthy near the top...

Which of these wild card contenders have what it takes to get into the playoffs and cause some...

Minnesota Wild pay a big price to land Martin Hanzal, while the L.A. Kings get a big defensive...
Bovada sets the number for trades; will Kevin Shattenkirk and Gabriel Landeskog be among t...

Another pre-deadline trade goes down, and this time it's for some late-season offense

Three of the last 10 Stanley Cup winners welcomed new coaches during their championship se...