Scott Hartnell says NHL's stance in CBA negotiations is 'frustrating'
Scott Hartnell has been active in CBA talks and says it's a bit frustrating how things are going in regards to the NHL's stance.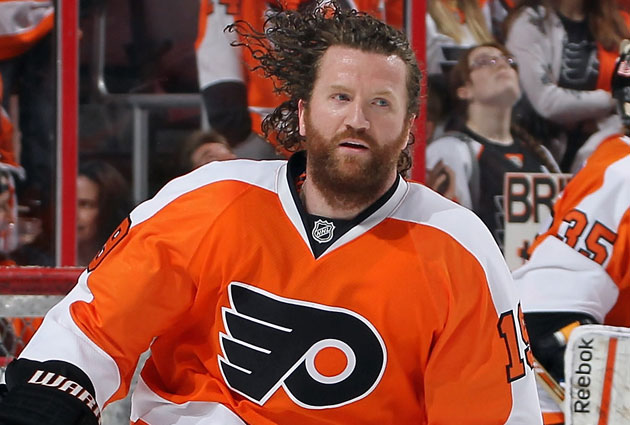 Scott Hartnell expresses some frustration with CBA talks. (Getty Images)
The NHL and NHLPA have continued to meet and negotiate toward a new Collective Bargaining Agreement despite the players union still not submitting a response to the league's initial offer that came down at the very beginning of negotiations.
Principals in the negotiations won't say much to the media. Everything is going well and it's all very cordial. But Fehr has said that players are free to talk to the media about whatever they want. Flyers forward Scott Hartnell took full advantage of that, speaking rather candidly about it all with Tim Panaccio of CSN Philadelphia.
Here is just a sampling of what Hartnell had to say -- and I suggest you take a look at the link because this is just a small bit.
"To use Gary [Bettman's] own words, it's a systemic issue," Hartnell said this week. "He doesn't want to look at the rich teams or the teams that are losing money. He wants to look at them all together which is a total 180 from what it was seven years ago.

"It's a little frustrating that way, but that's their position and you take it as it is. You have to believe they are 100 percent certain of getting everything [from us]."

...

"Obviously, the biggest thing is the percentage [of revenue]. Forty-six percent for us, instead of 57. It's very frustrating for us, that's for sure."
The stance from the league and union earlier this week was akin to Kevin Bacon in Animal House: Remain calm, all is well! They want everybody to know there is a lot of time to get a deal worked out. That feels a lot different now after seeing Hartnell's comments.
At the moment we're still waiting for the union to send its reponse to the NHL and it's supposedly close to coming, they are just waiting for all the information they requested from the NHL to come through. It could come as soon as this week, though. Then the negotiations can really begin when both sides have put their cards on the table.
If you can take anything from Hartnell's comments here it's that things are a bit more contentious than the sides have led us to believe. That doesn't mean that a deal still can't be found in time, but it is a little concerning to hear the concern. Hartnell has been present at a lot of the meetings so he knows what's going on better than most.
It's not surprising to hear that the players are feeling some frustration, but it is still disconcerting.
For more hockey news, rumors and analysis, follow @EyeOnHockey and @StubitsCBS on Twitter and like us on Facebook.
Show Comments
Hide Comments
Washington and Pittsburgh figure to go neck and neck, as do Anaheim and Edmonton

Cassidy went 18-8-1 after replacing Claude Julien in 2016-17

With the playoff field cut in half, the stakes keep getting raised
Green has led Vancouver's AHL affiliate since 2013

Series schedules, results and updates from the second round of the Stanley Cup race

Here's how to stay on top of all of the NHL's second-round playoff series, which begin Wed...