Semyon Varlamov signs five-year extension with Avs for $29.5 million
The Colorado Avalanche re-signed soon-to-be restricted free agent goalie Semyon Varlamov to a five-year extension on Thursday for a reported $5.9 million per season.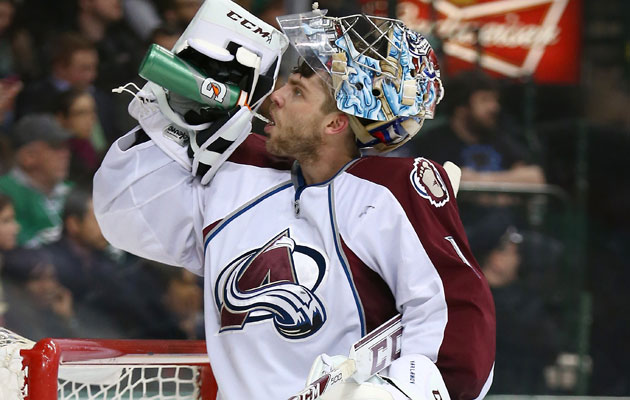 More NHL: Scores | Standings | League Leaders | Odds | Injuries | Power Rankings
The Colorado Avalanche have signed goaltender Semyon Varlamov to a new five-year contract extension, the team announced on Thursday. Varlamov was slated to become a restricted free agent after this season.
The team doesn't release the money on the contract but ESPN's Pierre LeBrun reports it's for $29.5 million, or $5.9 million per season. Whoa, that's a lot of cash.
"Undoubtedly, Semyon has been an impact player for us this season," said Avalanche Executive Vice President of Hockey Operations Joe Sakic. "At only 25 years old, he is entering the prime years of his career and he wants to be part of this franchise moving forward. We are very excited to have come to terms with him and the fact that he has agreed to a five-year extension demonstrates his commitment to the Avalanche and what we're trying to accomplish."
It certainly pays -- literally -- to have your best career season on the eve of becoming a free agent. He has played in 42 games this season with a 26-9-5 record while his .925 save percentage is 10 percentage points better than his career average of .915. He's certainly taken his game up a notch this season.
The question is if this is something he can sustain. As Sakic notes in his quote, Varlamov is just entering his prime years of his career and this new contract just takes him to the beginning of his 30s, so that's a positive. But giving goaltenders big money and long terms always comes with risk because the position is so vulernable to ebbs and flows from one season to the next. As an example, take a look at Corey Crawford this season in Chicago after his big extension in the summer.
Or for another example you can just look to last season when Varlamov had a .903 save percentage.
Either way though the Avalanche see Varlamov as their goalie of the future so they're paying him like it. The salary might be high, leaving some pretty big expectations for the upcoming years, but it's not as if the Avs face a cap crunch. The cost of solid No. 1s, which the Avs obviously believe Varlamov will be for years, has gone up.
The new contract represents quite a jump in salary for Varlamov as his expiring deal comes with a cap hit of $2.833 million.
Varlamov came to the Avalanche in a trade with the Washington Capitals in the summer of 2011 for Colorado's first-round draft pick. Varlamov was a first-round pick by the Capitals in 2006. The Russian is also in contention -- expected by most to be in the lead -- to start for Russia's Olympic team when the nation hosts the Games in two weeks.
Russian outlets suggest Olympic participation is still on the table, but NHL has repeatedly...

Buffalo's forward suits up in Da Beauty League as he prepares to return to Sabres in 2017-...

Penguins goalie shows support for Thunder Bay's Gavin Currie
Sports Illustrated's 2017 ranking puts the two hockey stars in the top 15 of stylish athle...

The former Blues and Capitals defenseman will wear No. 22 in the Big Apple

New York's captain appears set to play out the final year of his contract in 2017-18