Senators lose 'Matt Cooke hate fest'
Ottawa Senators fans dubbed it the Matt Cooke hate fest, and it proved to be much ado about nothing.
More NHL: Scores | Standings | Odds | Fight-O-Meter | League Leaders | Rumors
There was a lot of hype heading into Monday's Pittsburgh-Ottawa game as it was the first time the two teams met since the now infamous Matt Cooke-Erik Karlsson incident back in February. 
You might recall that as the night Karlsson, one of the NHL's best players and the reigning Norris Trophy winner, suffered a lacerated Achilles when Cooke's skate cut him as the two fought for a loose puck along the boards. Most viewed it as an unfortunate accident, but the Senators, specifically team owner Eugene Melnyk, felt there was intent on Cooke's part given his reputation and history.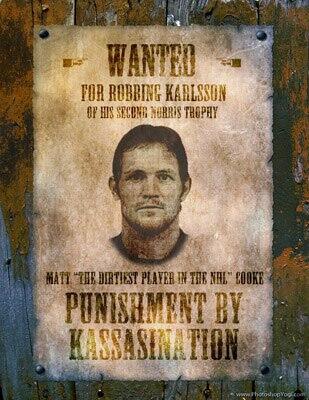 The incident prompted an outrageous reaction from Melnyk, one that seemed to just get more absurd everytime he opened his mouth to talk about it (he went as far as to say there is a forensic investigation taking place to prove Cooke's intent).
A Senators fan group, Red Scarf Union, dubbed Monday's game as the Matt Cooke hate fest and even printed up wanted posters (pictured) with Cooke's face right in the center.
Right below that was the line "punishment by Kassasination." That, of course, is a reference to the Senators' resident face-puncher, Matt Kassian, who didn't even dress for the game.
In the end it all proved to be much ado about nothing during the Penguins' 3-1 win.
There were some chippy moments throughout the game and some big hits for sure (including a crushing hit by Chris Neil on Simon Despres in the second period), and the referees were very quick on the whistle when it came to calling penalties. But there was nothing that crossed the line, no sideshow acts, and no sort of vigilante justice.  Really, the worst thing that happened was Neil trying to approach Cooke for a fight on his first shift (Cooke declined, and ended up drawing an interference penalty later in the shift), and Senators fans booed him every time he touched the puck, but that was pretty much the end of it.
Hopefully that can officially close the book on one of the more ridiculous stories of the 2013 NHL season.
Heading into the game the Senators insisited they were more concerned about getting a win, which was the only approach they could take (even if it seemed to disappoint the Ottawa tabloids).
Unfortunately for them they didn't even get that out of the night. Even worse it's not like the Senators played that poorly. They actually did a lot of things well, limiting the Penguins to just 11 even strength shots (Ottawa recorded 27 of its own) but simply could not beat Tomas Vokoun.
Either way, it still goes in as a loss and when combined with the Winnipeg Jets' 2-1 win in Buffalo, Ottawa is now just one point up on the No. 9 seed and its remaining schedule isn't exactly favorable with games at Washington and Boston (with a home game against Philadelphia sandwiched in between). 
The Senators have done a great job to stay in the race despite losing Karlsson, Jason Spezza, and Craig Anderson for so long, but they're going to have their work cut out for them over the next week.
Show Comments
Hide Comments
Ottawa took a 3-2 decision to send Boston home

Series schedules, results and updates from the first round of the Stanley Cup race

Stevens was L.A.'s interim coach for four games in the 2011-12 season
St. Louis, New York and Edmonton eked out victories that eliminated Minnesota, Montreal and...

Fresh off the Predators' sweep of the Blackhawks, Gnash is fired up for his team

A tougher opponent awaits either Toronto or Washington, and the Bruins hung on to beat Ott...