Sharks start, finish strong in Game 6 facing elimination
The Sharks have a bad reputation for not showing up in the big spots, but they showed up in Game 6 on Sunday night, starting and finishing strong for a 2-1 win over Los Angeles.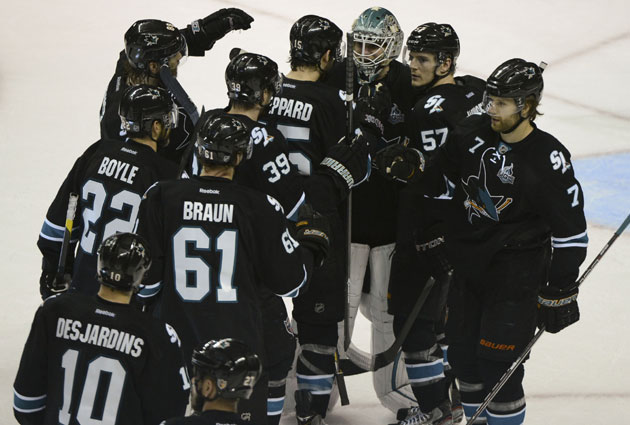 More NHL Playoffs: Scores | TV Schedule | Expert Picks | Odds | Mock Draft | Rumors
For years, right or wrong, the San Jose Sharks have carried a lot of labels, hardly any of them good. Things like paper champs, regular-season wonders, playoff chokers, etc. That's what happens when you have so many great regular seasons and yet never even make it to the Stanley Cup Final.
It just always seemed that when they got down in the playoffs, they'd really get down. It resulted in the stigmatizing adjectives that still hang over the franchise to a degree.
To beat that trap in Game 6 on Sunday night, their first time facing elimination this postseason, the Sharks instead got off to a tremendous start. The first few minutes of the game were played almost exclusively in the LA zone, aided partially by three Kings penalties. They were able to grab the early lead on a Joe Thornton goal to make sure that quick start wasn't for naught. The Sharks had some insurance added later when T.J. Galiardi made it 2-0.
It had to be a bit nerve-racking for some of the old-time Sharks fans, then, when Dustin Brown squeezed a soft goal in behind Antti Niemi from a foot below the goal line to make it 2-1 midway through the second period. You had a feeling the Kings were going to put a full onslaught on the Sharks just as they did at the end of Game 4 in San Jose. That has been kind of the Sharks' way over the years.
Only it didn't happen. The Sharks gave up some shots in the third period as is to be expected, but they gave the Kings little room to operate. They really clamped down without actually going into a shell, a pretty much perfect way to play with the lead.
It's never a great suggestion to just sit back and try to protect a lead, something the Sharks didn't do. They weren't overly aggressive, but they weren't just letting the Kings have their way in their own zone, either. It wasn't until the closing minutes that the Kings were able to sustain some pressure, but even then it wasn't really challenging Niemi.
When the final period was all said and done, it was San Jose outshooting Los Angeles 9-8 despite the fact that they held the lead. Teams typically playing from behind get the majority of the chances because they're the team pressing more, and sometimes the team in front is willing to sit back some. It was a far cry from the 14-2 shot advantage that LA had in the third period of Game 4.
San Jose promised to play Game 6 at a higher pace, to be more elusive and quicker. It didn't actually yield a different result from the previous two games at HP Pavilion -- all three games in San Jose this series were 2-1 Sharks wins -- but they looked better doing it. They were stronger on the puck and quicker most notably in their own zone to get to pucks and break things up before the Kings really got going.
The Sharks had to have a great performance, and they got it. Of course, they had a little bit of good fortune playing with them as well. Niemi's best friend, the goal post, made not one but three critical stops in the first period, when they had their best stretch of the game. But any goalie will tell you guys hit the post because of their positioning.
Besides, saying that takes away from another star performance from Niemi, who doesn't seem to get enough of the attention for the Sharks' success, even though he is a Vezina finalist. Besides the one goal from Brown, which was as bad as it gets, he was perfect.
I don't think I would go so far as to say it was the best game the Sharks have played this series, but it was still a great game by the Sharks, exactly when they needed it most -- facing elimination. Now it comes down to one game, Game 7 in Los Angeles on Tuesday night.
Trying to pull off one more will be tough considering they are 0-for-LA this year, but perhaps this new, elusive approach could help them evade any lingering stigmas about their ability to play in the postseason.
Show Comments
Hide Comments
Our Latest Stories
On day he signs entry-level deal with Canucks, Boeser scores Vancouver's third goal in 4-2...

The Penguins' leader in highlight reels has been extra feisty on some cringe-worthy cheap shots...

2017 SAHP NHL Global Series will pit Ottawa and Colorado against each other in Stockholm
Finland has churned out some winners in a league filled to the brim with diverse players

From the Caps' goaltender to the star-studded headlining duo of Chicago's offense, these guys...

Scoring his 41st goal of the year in a 3-1 win over the Buffalo Sabres, the Pittsburgh Penguins...