Sidney Crosby cleared to play without jaw guard
After playing the first two playoff rounds with a guard to protect a broken jaw, Sidney Crosby is clear to play with a normal helmet again.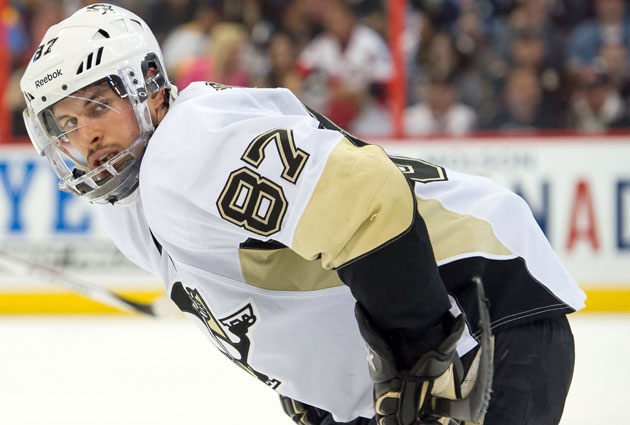 More NHL Playoffs: Scores | TV Schedule | Expert Picks | Odds | Mock Draft | Rumors
When the Eastern Conference final begins, Penguins captain Sidney Crosby will truly be back to his old self again.
Crosby, who returned in the first round of the playoffs sporting a shield to shelter his broken jaw, has been cleared to play without the extra bit of head protection. He practiced on Sunday sans shield and said after practice that he's OK to play with a normal helmet again.
"They're comfortable with it coming off, being hit and things like that," Crosby said of the team's doctors. "That's what it came down to. It doesn't really change anything. It's nice to see a little bit better."
It's not as if the jaw guard has been much of a hindrance for Crosby. In 10 games this postseason, he has seven goals and eight assists. It almost makes you think he should keep it on with how superstitious hockey players are, but we know he can put up those numbers normally, too.
The guard is something that he became used to playing with, but it will probably still be a relief to get back to normal. He has been playing with only a visor his whole career. To be as comfortable as possible is always a good thing as you get deeper in the playoffs.
"It feels weird cause I'm used to wearing the full-face [shield] for a month," Crosby said. "It feels weird, but much better. Seeing is much better.

"It might take a few days. I won't be sticking my head in front of the net as much as I would with a full-face on. But a few practices and I should be back to normal."
Just as good for Crosby is the fact that this shows his jaw is healing and he can get closer to a normal diet, as well. No longer will he have to fear mozzarella sticks.
Show Comments
Hide Comments
Stevens was L.A.'s interim coach for four games in the 2011-12 season

Series schedules, results and updates from the first round of the Stanley Cup race

St. Louis, New York and Edmonton eked out victories that eliminated Minnesota, Montreal and...
Fresh off the Predators' sweep of the Blackhawks, Gnash is fired up for his team

A tougher opponent awaits either Toronto or Washington, and the Bruins hung on to beat Ott...

Linesman Don Henderson is reportedly seeking $10.25 million in damages from a January 2016...