Sidney Crosby looks great in Game 2 even if goalless streak extended
Sidney Crosby didn't have a point in Game 2 and now has gone 13 straight games without a goal. Sidney Crosby was also all over for the Penguins and had one heck of a game.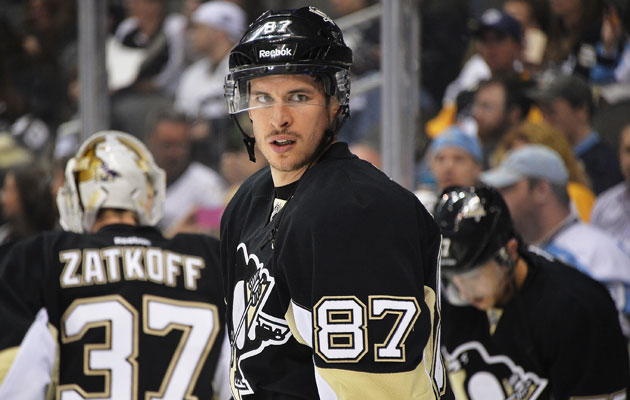 More NHL Playoffs: Schedule, TV listings | Expert Picks | Bracket | Scores | Odds
The Kid is alright.
Sidney Crosby is always a target; whether it's by the other team, fans or in the media, people always have their eyes on him. That's part of the deal with being the best player in the world and all. He's been a real focal point these playoffs with his movements being tracked and dissected because something has been missing: goals.
Crosby played his eighth game of this postseason on Sunday and still doesn't have a goal to show for it. Going back to last postseason, that's 13 straight playoff games without a goal. Stretch back to this regular season and it's the same number in consecutive games; 13 without a goal. Those are the longest goalless streaks of Crosby's career. Naturally there is going to be some heat on the guy who will win the MVP award this year.
But that doesn't mean that Crosby has been bad. Especially in Game 2, that is the furthest thing from the truth.
The microscope has examined everything about Crosby's game to explain why he hasn't been his usual, point-producing self. There has been injury speculation, talk of fatigue. Video has been broken down as if they were trying to find the shooter on the grassy knoll, examining Crosby's speed. Others go the easy if not dumb route and just say he shrinks in the spotlight (just go search 2010, Vancouver, Crosby if you think that). Something had to be wrong.
If Sunday was any inclination, nothing is wrong. He was all over the ice in Game 2.
Frankly, he's been a dominant player all postseason, he just doesn't have the goals to show for it. Still, he took it up another notch on Sunday in nearly 21 minutes of ice time. He had six shots on net, had another three attempts blocked and one more that he missed. He might have had a couple more attempts in there on tips that didn't register. Crosby was dangerous at every turn.
He was all over and whenever he was on the ice, the Penguins were all over Henrik Lundqvist. To be more specific, with Crosby on the ice the Penguins attempted 32 shots to the Rangers' 11; without him the Penguins still had more attempts but the margin was almost nothing at 32-30. That's a dominant game.
As far as any questions about his speed and overall fitness go, well just ask Ryan McDonagh if Crosby looked OK out there (via @MyRegularFace). His answer would probably be Classic Crosby.
It would be best for everybody to just breathe at this point. Sure, Crosby did not look like himself in Game 1 against the Rangers, the first time in these playoffs that he actually didn't play well. He might not have been the exceptional player we've all come to expect but he played well in the first round. On Sunday he was that exceptional player again, kept off the score sheet only because of the King.
The lack of goals (or even just a goal) in the playoffs will continue to follow Crosby like a storm cloud in a cartoon but Sunday's performance should go a ways in ending the questions of Crosby for now.
Like the Penguins, he just played his best game of these playoffs. Coincidence? Probably not.
Show Comments
Hide Comments
Our Latest Stories
On day he signs entry-level deal with Canucks, Boeser scores Vancouver's third goal in 4-2...

The Penguins' leader in highlight reels has been extra feisty on some cringe-worthy cheap shots...

2017 SAHP NHL Global Series will pit Ottawa and Colorado against each other in Stockholm
Finland has churned out some winners in a league filled to the brim with diverse players

From the Caps' goaltender to the star-studded headlining duo of Chicago's offense, these guys...

Scoring his 41st goal of the year in a 3-1 win over the Buffalo Sabres, the Pittsburgh Penguins...