Sidney Crosby tabbed favorite for Hart, Lundqvist tops for Vezina
Odds are out on the top individual awards for next season and no surprise, Sidney Crosby is the Hart favorite.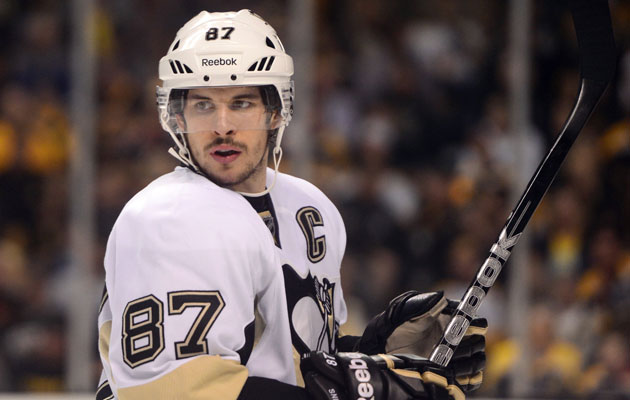 More NHL offseason: Rumors | Top 50 Free Agents | Buyout Tracker | Trades | Transactions
The preseason odds continue to roll out from Bovada. Today it's time for the awards races to be handicapped. Let's just get right to it. (Note: I'm not going to give the odds for every single player listed, you'd scroll for days.)
Hart Trophy (MVP)
Sidney Crosby (PIT) 3-1
Alexander Ovechkin (WAS) 6-1
Steven Stamkos (TB) 8-1
John Tavares (NYI) 12-1
Evgeni Malkin (PIT) 12-1
Henrik Lundqvist (NYR) 12-1
Claude Giroux (PHI) 16-1
Henrik Sedin (VAN) 16-1
Patrick Kane (CHI) 25-1
Jonathan Toews (CHI) 25-1
Eric Staal (CAR) 30-1
Taylor Hall (EDM) 30-1
Phil Kessel (TOR) 30-1
Daniel Sedin (VAN) 30-1
Ryan Getzlaf (ANA) 30-1
Anze Kopitar (LA) 30-1
Pavel Datsyuk (DET) 30-1
Jonathan Quick (LA) 30-1
Nicklas Backstrom (WAS) 30-1
I must admit, I thought Crosby would have worse (better?) odds than that, like 1/3 instead of 3/1. He would have walked away with the award last season if he weren't hit in the face with a puck.
Norris Trophy (Top Defenseman)
Erik Karlsson (OTT) 4-1
P.K. Subban (MON) 9-2
Kris Letang (PIT) 13-2
Shea Weber (NAS) 7-1
Ryan Suter (MIN) 10-1
Zdeno Chara (BOS) 10-1
Duncan Keith (CHI) 12-1
Alex Pietrangelo (STL) 12-1
Dustin Byfuglien (WPG) 15-1
Keith Yandle (PHO) 15-1
Dan Boyle (SJ) 20-1
Alexander Edler (VAN) 20-1
Mark Streit (PHI) 22-1
Brian Campbell (FLA) 25-1
Niklas Kronwall (DET) 25-1
Justin Schultz (EDM) 30-1
Kevin Shattenkirk (STL) 35-1
Dion Phaneuf (TOR) 35-1
If all of these guys are able to stay healthy, that should be an excellent race. There's quite a group of defensemen in the NHL right now, a lot of them still young.
Vezina Trophy (Top Goaltender)
Henrik Lundqvist (NYR) 4-1
Jonathan Quick (LA) 5-1
Tuukka Rask (BOS) 7-1
Pekka Rinne (NAS) 15-2
Sergei Bobrovsky (CLB) 9-1
Craig Anderson (OTT) 10-1
Jimmy Howard (DET) 12-1
Antti Niemi (SJ) 12-1
Carey Price (MON) 12-1
Roberto Luongo (VAN) 12-1
Corey Crawford (CHI) 15-1
Ryan Miller (BUF) 18-1
Mike Smith (PHO) 18-1
Braden Holtby (WAS) 20-1
Kari Lehtonen (DAL) 20-1
Cory Schneider (NJ) 25-1
What, no Tim Thomas? But really, what does Crawford have to do to get some respect for the Vezina?
There are also odds for the Art Ross (Crosby is tops at 9/4) and for the Rocket Richard (Stamkos is 5/2).
Show Comments
Hide Comments
Our Latest Stories
Senior Tony Bruns set a state and national record on a day his team wishes to forget

Crosby won't have to pass the torch for a while, but McDavid is proving to be a worthy hei...

The new contract won't end the Trouba trade rumors, though
Plus, four other teams whose hot starts make them tougher to project

After his emotional performances this week, Anderson has taken an indefinite leave of abse...

The Penguins goalie situation is back to normal with Murray's return from a broken hand