Sidney Crosby's recent production by the numbers
Despite missing more than half of the games since the start of the 2010-11 season Sidney Crosby is putting up numbers that are on another level from everybody else.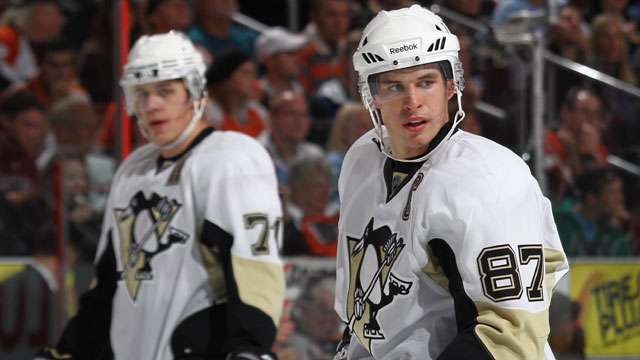 More NHL: Scores | Standings | Odds | Fight-O-Meter | League Leaders | Rumors
Love him or hate him (and a lot of you seem to hate him), it's pretty hard to dispute the argument that Sidney Crosby is the best player of his generation.
At the age of 25 he's in the middle of what should be his peak years in the NHL in terms of point production (most scorers have their peak year around age 25), and the past three years should have been some of his best. Because of some bad luck and the NHL's inability to work out a new collective bargaining agreement in a timely manner, he's had to miss over 50 percent of those games due to injuries (2010-11 and 2011-12) and the league's most recent lockout (2012-13).
Despite all of that he's still putting up numbers that are quite simply on another level from everybody else in the NHL. The numbers are pretty ridiculous, actually. So let's look at them.
• Sunday's 5-3 win over the Tampa Bay Lightning was Crosby's 82nd game since the start of the 2010-11 season. In those 82 games he's scored 49 goals and recorded 82 assists for a total of 131 points.
The last time an NHL player tallied 131 points in a single season (82 games) was all the way back in 1995-96 when teammates Mario Lemieux and Jaromir Jagr did it. It's only happened 45 times in NHL history.
Crosby's best full-season production to date was 120 points back in 2006-07.
•  Since the start of 2010-11 Crosby ranks 48th in the NHL in terms of total points despite appearing in just 45 percent of the games.
To put that into perspective, the players directly above him ( Milan Lucic ) and directly below him ( Jordan Eberle ) on that points list have played in 174 and 164 games, respectively. Crosby is the only player in the top 100 who has played in fewer than 130 games. He's played in 82.
• Over that stretch Crosby is averaging 1.60 points per game, by far the best mark in the league. Only eight players in the league have played in at least 82 games since then and managed to average even a point per game (in order: Crosby, Evgeni Malkin , Steven Stamkos , Martin St. Louis , Daniel Sedin , Henrik Sedin , Claude Giroux , Pavel Datsyuk ). The No. 2 scorer on that list is Malkin at 1.23. That means the gap between Crosby and Malkin (.37) in terms of points per game over that stretch is the same as the gap between Malkin, the No. 2 scorer, and Dallas' Jamie Benn (0.86) ... the 41st-leading scorer on a per-game average.
Given the fact that scoring league-wide has been dropping pretty consistently in recent years, those are some video game numbers.
With Malkin out of the lineup for an unknown period of time due to a concussion, the Pittsburgh Penguins are going to be leaning on Crosby's line (he'll be playing with James Neal and Chris Kunitz ) for offense. He seems more than capable of providing it.
For more hockey news, rumors and analysis, follow @EyeOnHockey and @Agretz on Twitter and like us on Facebook. Also, subscribe to our YouTube Channel.
Show Comments
Hide Comments
The Predators are riding an opportunistic defense and superb goalie, while the Pens boast elite...

Washington and Toronto set to face off March 3 in Annapolis

"Let's go, Preds!" chants take on a whole new meaning in the hype piece
Both Stanley Cup Final contenders cracked the list of top 10 teams searched in 2016-17

The Preds will need more from their blue-line depth, and Pittsburgh has to capitalize in s...

Vince Gill, Carrie Underwood, Lady Antebellum and Luke Bryan have apparently upstaged a hometown...