Sports Illustrated's Chicago Blackhawks cover irks hockey fans
Hockey fans are upset about more people talking about hockey, apparently.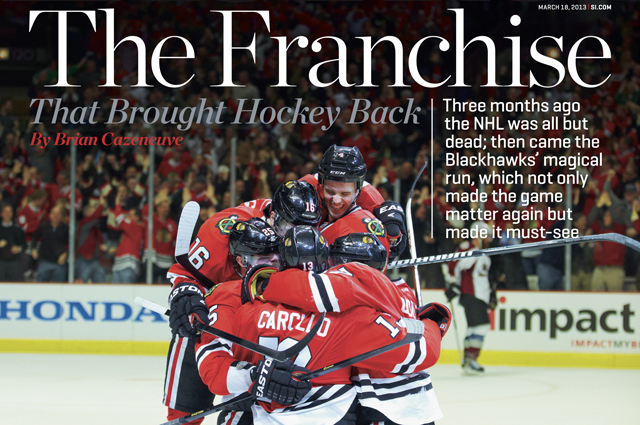 Hockey fans have a rather verbose inferiority complex. With all due respect, as one of the many in that number, we can be a little overprotective.
That's why when this week's Sports Illustrated cover was unveiled to feature the Chicago Blackhawks, the immediate reaction was widespread and, to put it mildly, frenzied.
The cover art itself didn't strike a nerve. At first glance, most people probably thought, hockey on the cover? Really?
The last SI national cover to primarily feature hockey was the issue of March 8, 2010, after the Olympics (based on a search through the SI Vault). It has graced regional covers twice since, but not the most widespread publication.
The shock this week quickly turned to outrage when the cover proclaimed the Blackhawks as "The Franchise that brought hockey back." There is also a little extra descriptor that perhaps hockey fans saw as a twisting of the knife. It reads, "Three months ago, the NHL was all but dead; then came the Blackhawks' magical run, which not only made the game matter again but made it must-see."
Though perhaps a tad sensational, it's not entirely inaccurate considering the only other piece of NHL news that had any widespread appeal to a national sports consumer was the lockout. As in a "hey, look at those idiots in the NHL having another lockout" train wreck kind of appeal.
While the Blackhawks cannot be credited alone for hockey's strong return from the potentially crippling lockout, the 24-game point streak made for an absolutely compelling storyline that had appeal that far outstretched hockey's normal reach.
Hockey fans often are unable to look outside the walls that we've neatly created for ourselves to insulate us from those hurtful "niche sport" jabs. We call ourselves the hockey community, which can be fairly exclusive, like the most dysfunctional, run-down country club you've ever seen.
That's why bandwagon fans are so derided, despite the fact that many of us needed a reason to become a fan at some point in our lives -- and reinforcements to remain a fan. That's the value of a team's success. Success brings more people. More people bring more money. Sure, ignorance can be annoying, but the money bandwagon fans spend goes to the same place longtime fans' money does, even if it hasn't been going there as long.
When national outlets like Sports Illustrated or ESPN aren't talking about hockey, we wonder why they don't. Can't everyone see what we see? When they do, if the conversation they are having isn't to our liking, we go nuts.
Here's the problem, though: Hockey is a niche sport within the American sports landscape. It's growing, but it is not grown.
Outside of Sidney Crosby and -- decreasingly -- Alex Ovechkin, the NHL is a league without celebrities, and even Crosby and Ovechkin wouldn't get recognized in a lot of local grocery stores. Of the major American sports, hockey is the one with the least American players. The rules for some are complex, and until the last few years, the game was less accessible to a TV audience because potential viewers couldn't find it.
Hockey is a sport that has grown exponentially in the last decade, with a rising youth hockey base, increasing television ratings, better ticket sales, healthy big-market franchises and league revenues rising. It's still not where it can be. Not even close.
To the average American sports fan, i.e. the overwhelming majority of sports media consumers in this country, the lockout signified the death of hockey, something that was so laughable that the league possibly couldn't survive.
When the league opened back up for business, national perception was that fans wouldn't return. That turned out to be unfounded, but a wide audience still didn't know until the NHL gave them a reason to find out.
That reason turned out to be the Chicago Blackhawks.
The team's streak became part of the national sports discussion. NBC's Game of the Week between Chicago and the Detroit Red Wings, in which the Blackhawks stretched their run to 22 games in thrilling comeback fashion, drew the network's biggest non-Winter Classic, single-game hockey audience ever. LeBron James even felt compelled to tweet, "Hey Chicago Blackhawks, u guys are AWESOME!! #streaking." That got more than 10,000 retweets.
It made people notice that normally wouldn't, which is hardly bad for the league's marketing.
NHL fans have to understand that there is their own perception of the league and that of everyone else. We are but a happy few in that larger-than-we-know landscape of the American sports culture.
Hockey fans might not like the way the discussion is being driven, that hockey can't stand alone and be the compelling story just because it's compelling to us. The fact that there is a discussion at all is a positive step, especially when it's a national conversation.
The NHL didn't need the Blackhawks and their streak to "bring it back." They needed a compelling story to shift the national discussion from the league being a laughingstock for having lockouts seven years apart. The league got that, and while hockey fans were more than willing to welcome the NHL back with open arms, maybe more people have a reason to either come back or peek in for the first time.
There is plenty to complain about within the game itself. Too much media coverage shouldn't be one of them.
For more hockey news, rumors and analysis, follow @EyeOnHockey and @chrismpeters on Twitter and like us on Facebook. Also, subscribe to our YouTube Channel.
Show Comments
Hide Comments
Our Latest Stories
Big losses by the Sharks and Blackhawks have Washington back on top

On day he signs entry-level deal with Canucks, Boeser scores Vancouver's third goal in 4-2...

The Penguins' leader in highlight reels has been extra feisty on some cringe-worthy cheap shots...
2017 SAHP NHL Global Series will pit Ottawa and Colorado against each other in Stockholm

Finland has churned out some winners in a league filled to the brim with diverse players

From the Caps' goaltender to the star-studded headlining duo of Chicago's offense, these guys...