St. Louis Blues trade rumors, trade deadline outlook
What do the St. Louis Blues need to do before the trade deadline?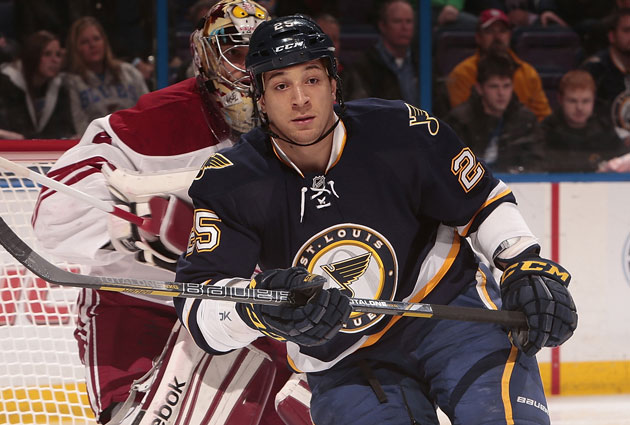 More NHL: Scores | Standings | Odds | Fight-O-Meter | League Leaders | Rumors
With the 2013 NHL trade deadline at 3 p.m. ET April 3, Eye on Hockey will examine

whether each team is a buyer or seller at the deadline, and who each team should look to sell or receive by the deadline.
Buyers or Sellers
St. Louis' record in 2013 isn't as impressive as it was a year ago, but that's largely due to its goaltending failing the team for much of the season. The Blues are still a playoff team and if they can get even average or slightly above average goaltending they will be a tough out in the Western Conference playoffs.
They have a ton of cap space to play with and should be contenders in the Western Conference so we can probably safely put them in the buyer category.
Rumors
They've been mentioned in a lot of rumors that tend to be all over the map.
There was a Danny Briere rumor a few weeks ago but that involved them giving up defenseman Kevin Shattenkirk, and that just doesn't seem like something that's going to happen. Shattenkirk is too good, too young, and too valuable. Chris Stewart is scoring on seemingly every shot he takes this year, is having the best goal-scoring season of his career and his name has surfaced in recent rumors as well, which is a little surprising. Though, if you believe in selling a player while his value is at its highest point, now would certainly be the time to do it -- but only if you're getting something back that can help you now. Jaroslav Halak's name also surfaced recently, but general manager Doug Armstrong shot that down pretty quickly.
Potential Targets
The Blues have a great young team with most of their key players locked up for multiple years at very affordable cap hits. They're a deep team with a lot of good two-way players who can drive play and sustain pressure in the offensive zone. What they're really lacking -- and what they lacked last season -- is a true finisher. Not just a guy who can get the puck into the offensive zone and keep it there, but one who can consistently get the puck in the back of the net.
Rookie Vladimir Tarasenko gave them a big boost in that area early in the season, and Stewart is having a remarkable year. My concern with Stewart is he's not going to keep scoring on 25 percent of his shots and he's probably long overdue for a slump.
The obvious target if you're looking for a winger is Calgary's Jarome Iginla if the price is right and he would agree to go to St. Louis. I'm not sure the Blues couldn't use a little more depth down the middle as well, and if the Capitals decide to deal Mike Ribeiro before the deadline he might be an intriguing fit.
The Blues aren't going to trade Halak -- and you have to imagine he's going to get better at some point this season -- but now that Brian Elliott has remembered he's Brian Elliott and started to play like it, another goaltender might not be an outrageous thought. Jake Allen has been great in his limited time this season, but how much faith do the Blues have in him at this point if they need to rely on him in the playoffs?
Show Comments
Hide Comments
With the playoff field cut in half, the stakes keep getting raised

Green has led Vancouver's AHL affiliate since 2013

Series schedules, results and updates from the second round of the Stanley Cup race
Here's how to stay on top of all of the NHL's second-round playoff series, which begin Wed...

Series schedules, results and updates from the first round of the Stanley Cup race

Ottawa took a 3-2 decision to send Boston home, and Washington outlasted Toronto, 2-1