Stadium Series: Weekend games set regular-season ratings records
The game Sunday at Yankee Stadium resulted in record regular-season national ratings (non-Winter Classic division) while the game at Dodger Stadium was a hit in LA.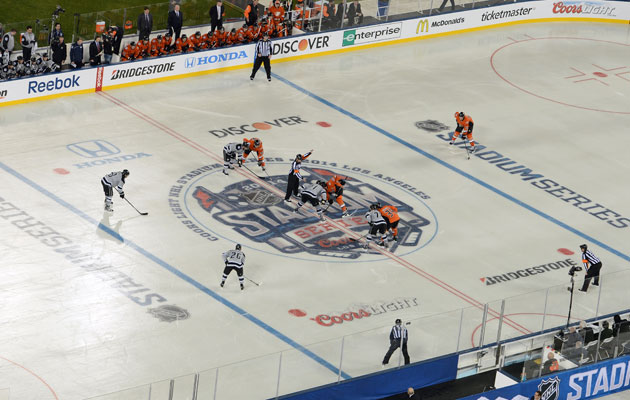 More NHL: Scores | Standings | League Leaders | Odds | Injuries | Power Rankings
If the novelty of outdoor hockey games is starting to wear thin, it's not being reflected very much in the television ratings.
The NHL opened the Stadium Series with two outdoor games this weekend, one on Saturday night in Los Angeles on NBCSN -- hardly an ideal setup for big ratings -- and then another on Sunday afternoon at Yankee Stadium between the Rangers and Devils that was aired on NBC. Both yielded good numbers for NBC in comparison to your average regular-season broadcasts.
NBC's NYR-NJD NHL Stadium Series game from Yankee Stadium did 1.6 overnight, a record NBC o'night for a NHL reg-sn gm (exl regionals & WCs)

— NBCSportsPR (@NBCSportsPR) January 27, 2014
Hard to read through the short-hand but the game at Yankee Stadium was NBC's best completely national broadcast of a regular-season game in the non-Winter Classic division.
In the New York area the game drew a rating of 5.1 and in a market the size of New York, that equates to a lot of eyeballs. Of course that doesn't count the 50,000 that were in attendance at the game, either.
NBC didn't release any national numbers for the game at Dodger Stadium between the Kings and Ducks but the local numbers were strong as well.
@LAKings @AnaheimDucks Stadium Series on @NBCSN drew 2.38 rating in L.A., highest rating ever in L.A. market for NHL reg-season gm on NBCSN

— NBCSportsPR (@NBCSportsPR) January 27, 2014
Like New York, the 2.38 isn't a huge number ratings wise but 1) it's a record for the network that just so happened to come on the worst TV night of the week and 2) in LA that still equates to a lot of people watching when you talk about the sheer volume in the market.
All in all, not bad when you're talking about regular-season games in late January. The NHL's gamble on the attraction lasting seems to be paying off as you can't complain about setting ratings records.
Pittsburgh also has been linked to Matt Duchene and could be in the mix for Tyler Bozak

Nashville extends its 24-year-old restricted free agent with what could be bargain numbers

Calgary forward is all for playing for the Flames, but he also likes the idea of going to...
Plans for renovating KeyArena are now also being overseen by NHL-to-Seattle hopefuls

With Leslie Anderson selling the Rockets, there is newfound hope for hockey in Houston

Pittsburgh Penguins' repeat Conn Smythe Trophy winner has more than hockey on his athletic...