Stanley Cup Final: Can Rangers rain on LA's preordained parade?
Many joked that the Western Conference finals might as well have been the Stanley Cup Final but can the East-champion Rangers give the Kings a fight?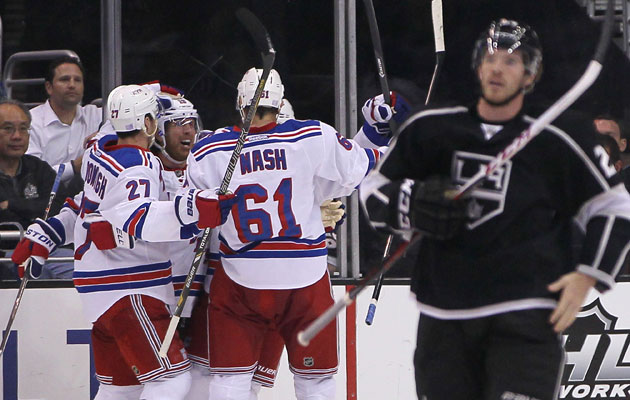 More NHL Playoffs: Schedule, TV listings | Expert Picks | Bracket | Scores | Odds
If there is one thing NHL commissioner Gary Bettman loves to trumpet about his league, it's what he lovingly refers to as the "competitive balance," or as most people like to call it, parity.
But if you've paid even a slight bit of attention to the National Hockey League you know that idea is getting closer toward myth than reality. There is some credence to Bettman's buzzwords but there remains a chasm between the conferences when it comes to competitiveness.
By just about every measure you want to use, the Western Conference is superior. Teams in the West averaged 95.3 points, six points more than for teams in the East. Only one team from the West (Dallas) had a sub-.500 record against the East (it moves up to four teams if you count OTL just as losses); the East had seven below .500.
It's for these reasons it was an easy joke during the Western Conference finals between the Kings and Blackhawks to say they were playing the real Stanley Cup Final. With the conference's dominance, it seemed assured the champion would come from the West all season with the prevailing wisdom being unless Boston advanced in the East, the Clarence S. Campbell Bowl would just be a holdover until Lord Stanley's chalice is handed over.
From the great seven-game series it was the Kings who emerged as the victors, moving on to the Final to face the Rangers from New York. The question is, will it just be a formality to crown the Kings again?
Put another way, can the Rangers make this a competitive series, a battle to put a cap on the wonderful postseason we've been treated to in 2014? The short answer is yes, they can. Here's why: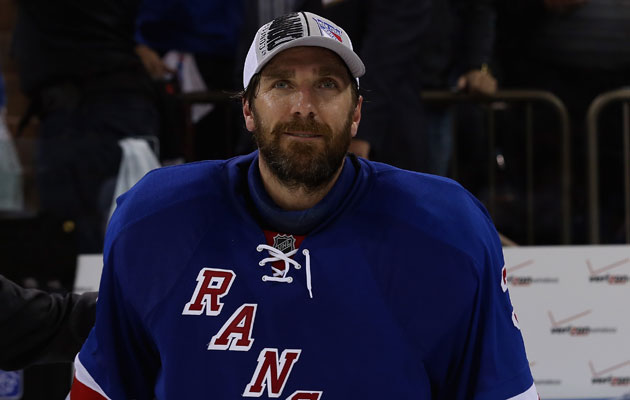 The picture should suffice but yes, Henrik Lundqvist gives the Rangers a very real shot against the Kings. Yes, LA's offense has taken things to a whole new level this postseason and is coming off a series where it scored 28 goals in seven games against Chicago's excellent corps of defensemen. But let's be honest for a second: Corey Crawford was not good in the series; he certainly wasn't good enough for Chicago.
By the same token, Jonathan Quick was equally subpar. His team was just able to get in one more goal in the end. We all have a lasting memory of Quick in 2012 winning the Conn Smythe Trophy thanks to a .946 save percentage or even last postseason when he posted a .934. But this year? Well he is down to .906 in the playoffs after posting a .889 save percentage against Chicago. He's very beatable. Something certainly must be said about who the Kings have played and there is merit, but Quick has given up some pretty ugly goals too.
Lundqvist? Well he's not easily beatable. His save percentage this postseason is at .928. Last postseason he was at .934 and the year before that at .931. So yes, Lundqvist has become even better in the playoffs than his regular-season form, which we all know is excellent.
There's no doubt LA's offensive stars are on a whole other level above the Rangers' at the moment. Former Ranger Marian Gaborik already has 12 goals this postseason while Jeff Carter, Anze Kopitar and Drew Doughty have been playing lights out too. But lest we forget, the Rangers are strong defensively. So is Chicago, of course, but that's where we get back to Lundqvist in net. For that reason alone, you have to like the Rangers' chances to slow down LA's offensive playoff monster.
On the other side, will the Rangers actually have enough of the puck possession to test the Quick is beatable theory? In theory, yes. The Kings are the league's top puck hogs, leading this season in both Corsi For and Fenwick For, stats that measure the percentage of shot attempts (including blocks for Corsi, excluding blocked shots for Fenwick) in a team's favor. The Kings generated 57.3 percent of all shot attempts in their games this season; it's no wonder they gave up the fewest goals in the league even with Quick being perfectly average with a .915 save percentage.
While LA is tops in this department, it's not as though the Rangers are a slouch. They checked in at sixth in the league in both categories. Both teams know how to control the puck and excel at it. Obviously both teams can't have the puck at the same time but the possession play tendencies should be on display from both sides and you should expect the Rangers to get their shots.
What's more is that when it comes to depth, the Rangers are probably one of just a few teams that can keep up with the Kings. LA has three very good lines and a fourth line that will get ice time and performs well; it's not a liability. A big part of why the Rangers are still alive in this postseason is because they too can and will roll four lines, each almost as capable as the next.
Not to mention the Rangers boast the speed to compete with LA. Of course LA has speed and size, but the Rangers can make plays happen and break down defenses at times with how well they get through the neutral zone and enter the zone cleanly.
The LA Kings are big favorites -- just the same as the Blackhawks would have been -- for very good and legitimate reasons. They have a Stanley Cup pedigree already, overcame numerous obstacles and very stiff competition to get here and are just flat-out good.
There won't be many people picking the Rangers (there are none here), just don't take that to mean this is nothing but a coronation for the Kings.
Show Comments
Hide Comments
Here's how to stay on top of all of the NHL's second-round playoff series, which begin Wed...

Series schedules, results and updates from the first round of the Stanley Cup race

Ottawa took a 3-2 decision to send Boston home, and Washington outlasted Toronto, 2-1
Stevens was L.A.'s interim coach for four games in the 2011-12 season

St. Louis, New York and Edmonton eked out victories that eliminated Minnesota, Montreal and...

Fresh off the Predators' sweep of the Blackhawks, Gnash is fired up for his team