Stanley Cup Final: Grades for Game 6
The Chicago Blackhawks are champions once again so of course they get good grades after Game 6 of the Stanley Cup Final.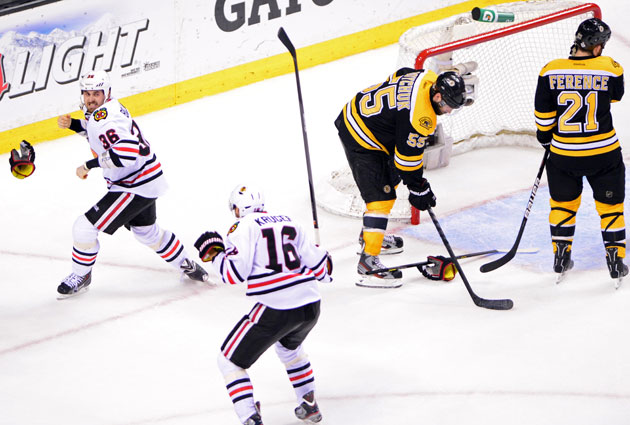 More NHL Playoffs: Scores | TV Schedule | Expert Picks | Odds | Mock Draft | Rumors
Team
Grade
Analysis
A
The Blackhawks are Cup champions once again, how can that not be worth an A grade? But seriously, they did a fantastic job staying tough in this game. They were completely dominated in the first period by the Bruins and yet managed to escape down only 1-0. From there on out they slowly turned the tide of the game to get it even. They responded once more after it looked like Boston scored the back-breaking, game-winning goal, not giving up and pushing hard all the way to the end. The Hawks are as worthy of a champion as we've had in a while.
B
The Bruins had a fantastic start but they had to be a bit frustrated to get away from the first period with only a one-goal lead. They were slowed down a bit but kept fighting to get the go-ahead goal from the top line, finished by Milan Lucic. The Bruins' top line, which had been pretty quiet in the past few games, woke up and Tyler Seguin and the third line were great but those kind of defensive breakdowns at the end of the game can't happen. How

Dave Bolland

was able to sneak into the crease for the game-winner shouldn't happen. That last-minute defense is going to haunt the Bruins for a long time.
 A
Corey Crawford was once again great for the Blackhawks, standing tall through a very challenging first period. Crawford had been seen by many as the weak link coming into the year and he responded to it all season with his play, it's fitting it ended the same way. The third-period goal was tough to pin on him, Milan Lucic was wide open right in front of him and the puck bounced off the post before hitting Crawford and going in. He gave Chicago a chance to stay in the game and the team rewarded him.
 A+
There were questions if Jonathan Toews was going to play in Game 6. They're awfully glad he did. From the beginning of the game Toews looked to be in great shape and it showed. Of course he had a hand in the furious comeback, delivering a beautiful feed to Bryan Bickell for the game-tying goal. Oh, and he had the first goal of the night, too. Yes, talks of Toews' demise were greatly exaggerated.
Show Comments
Hide Comments
Our Latest Stories
It's only the preseason, but this save by Nathan Lieuwen might not be topped this year

The World Cup hosts are one win away from reclaiming the title

It's only the preseason, but noted agitator Shaw is in mid-season form
The league is going all out for its year-long centennial celebration

Johnny Gaudreau, Nikita Kucherov and other top unsigned RFAs risk missing the start of the...

Team Europe will be without one of their top forwards against Canada