Stanley Cup Playoffs Daily Picks: Blackhawks, Ducks go for series lead
This is the Stanley Cup Playoffs Daily Picks, where CBS hockey writers Chris Peters and Adam Gretz get you ready for every game every day of the postseason and share their predictions for each. On Monday, the Chicago Blackhawks and Anaheim Ducks face off in Game 5 of the Western Conference finals.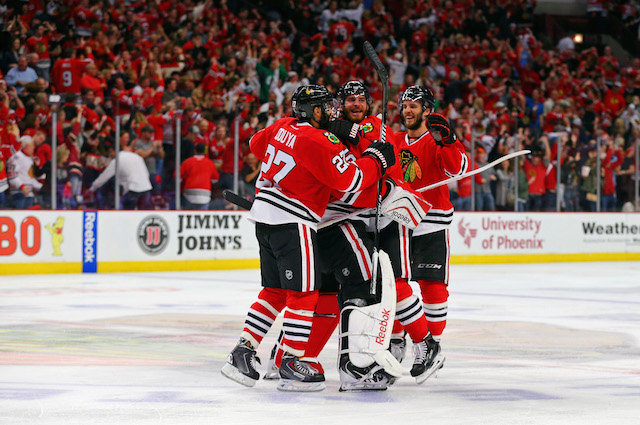 Welcome to the Stanley Cup Playoffs Daily Picks, where CBS hockey writers Chris Peters and Adam Gretz get you ready for every game every day of the postseason and share their predictions for each.
Chicago Blackhawks at Anaheim Ducks, Game 5, 9 p.m. ET, NBCSN
Series tied, 2-2
It is going to be awfully difficult for the Blackhawks and Ducks to top the game they played Saturday.
It featured the second multiple-overtime game of the series, a wild third period that saw the two teams combine for six goals, including three from the Ducks in just 37 seconds, and Antoine Vermette coming back from being a healthy scratch in Game 3 to score the winning goal in the second overtime.
If any two teams are capable of topping, or even matching, that type of game, these two just might be the ones. They are both averaging more than three goals per game in the playoffs (the Nashville Predators were the only other team this postseason to top three goals per game, and they only played six games), they have deep, talented rosters with star power all throughout the lineup, and they play an up-tempo, attacking style of hockey that can lend itself to chances, goals and the type of exciting games that the 2015 playoffs have been lacking at times.
The Blackhawks' Game 4 win allowed them to even the Western Conference finals 2-2, and if history is any indicator, it would seem that the Blackhawks have the Ducks right where they want them.
Since Patrick Kane and Jonathan Toews joined the NHL and made their first playoff appearance in 2009, the Blackhawks are 14-0 in Games 5 and 6 of a series that was tied after Game 4, which is a pretty incredible number and yet another example of just how much success the Blackhawks have had during the Kane-Toews era.
If there is a concern for Chicago right now it has to be on defense where it is still really only playing four defensemen. Given Anaheim's size and its physical style of play it is perfectly reasonable to think that the Blackhawks might start to wear down a little bit as this series goes on, especially after playing four multiple-overtime games in the playoffs, including two in this series. Add all of the extra time up and it's like the Blackhawks have played two additional playoff games. Fortunately that second-round sweep against the Minnesota Wild not only gave them some additional time off between that series and the conference finals, but also balanced out the extra time they've had to play in overtimes. And even with the top-heavy minutes on defense and all of the extra time, the Blackhawks really haven't shown any sign of slowing down.
Pick: Blackhawks 3, Ducks 2
Three stars
1. Marian Hossa, Chicago Blackhawks: Whenever certain players go through lengthy scoring droughts you sometimes hear about how "they do other things well that still help the team." Marian Hossa is one of those guys who can do other things that still helps his team even if he's not scoring. His offensive production hasn't always been there in the playoffs, but Hossa is still a game-changing player every time he steps on the ice, making plays, setting up teammates and playing great defensive hockey. He has been really strong so far against Anaheim.
2. Duncan Keith, Chicago Blackhawks: Keith has been a machine for the Blackhawks in these playoffs and is not only averaging more than 32 minute of ice time per game, but he never seems to be slowing down. The Blackhawks are leaning on their top four defensemen more than any team still playing in the playoffs and no player in that group has been as important as Keith.
3. Corey Perry, Anaheim Ducks: Perry's point production has slowed down a bit from where it was earlier in the playoffs but he has still has a pair of goals over the first four games and has been a handful for the Blackhawks for his play with and without the puck. He's going to the net, playing his usual physical and chippy game and doing whatever he can to get under the skin of the Blackhawks.
Show Comments
Hide Comments
Fired by Dallas this offseason, Ruff is expected to replace Jeff Beukeboom

Even without a can't-miss prospect, the first round features a handful of solid center pic...

Casey Mittelstadt goes off the board in the top 10 picks of the 2017 NHL Entry Draft
New Jersey makes the Halifax Mooseheads star the first overall selection in this year's dr...

Washington saves a key piece from hitting free agency but probably hurts itself in the long...

Pens open season on Oct. 4, while the Golden Knights begin play Oct. 6 on the road