Steve Ott unveils Sabres' new third jersey and it's awful
The wait for the Sabres' gold third jersey to be revealed is finally over. Maybe they should go put it right back in the closet.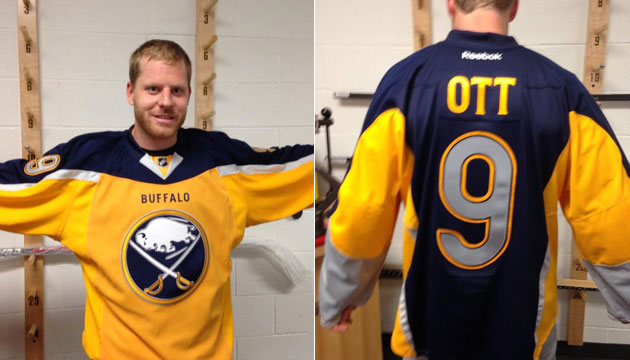 More NHL offseason: Rumors | Top 50 Free Agents | Buyout Tracker | Trades | Transactions
After a long, long (way too long) wait, the Buffalo Sabres' alternate jersey for the upcoming season has been revealed. We can thank Steve Ott for getting it done. I think.
The day began with the Sabres released another tease of the jersey, something they've been doing all summer. It was hardly revealing.
Your favorite part of the week... here's a *NEW* sneak peek of our third jersey this year! pic.twitter.com/tO3Is5okID

— Buffalo Sabres (@BuffaloSabres) September 4, 2013
That got a lot of reaction on Twitter, including from Ott who demanded to see more. Soon enough he began to threaten he would reveal it himself as he got his hands on a sweater. A short while later Ott tweeted out the two pictures above in what became apparent as a designed viral reveal by the franchise. Well done in that regard. That's about the only regard..
Because the jersey is still getting a lot of reaction, just probably not the kind the Sabres were hoping for. Those things are awful. That sweater might surpass the Islanders' third for the worst not only in hockey but in sports. The best way they can be described is that it looks like the knock-off jersey you buy on the discount rack at your local Marshall's or Wal-Mart. What's up with the different color front and back?
Or what about the gray on the ends of the sleeves that run up to the chest? Why is gray being introduced at all? They took the color scheme that the Predators dumped a few years ago and put it into this sweater. Then there's the very subtle "Buffalo" at the top of the crest. Either put the team/city name on the jersey or don't, it's as if they couldn't decide.
I admit I really liked the idea of a gold jersey for the Sabres' third when I heard about it. The execution though? Ugh. A summer of waiting and hyping up the jersey only for that to be the final product? Talk about a letdown.
Show Comments
Hide Comments
Ottawa recovers from a 7-0 loss in Game 5 to quiet Pittsburgh's offense

Series schedules, results and updates from the Eastern and Western conference finals

Out for the remainder of the postseason, Johansen is still part of the Predators' playoff...
Nashville refuses to back down despite taking fewer than 20 shots against fill-in goalie Jonathan...

Anaheim will be without two key forwards and possibly its No. 1 goalie in Nashville on Mon...

Pittsburgh makes a fool of Ottawa's top-line defense with four goals in the first period a...