Team USA falls short of goal with flat finish at Olympics
The USA hit the medal round looking as strong as any team and finished with a whimper, failing to score in the final two games and falling very flat vs. Finland.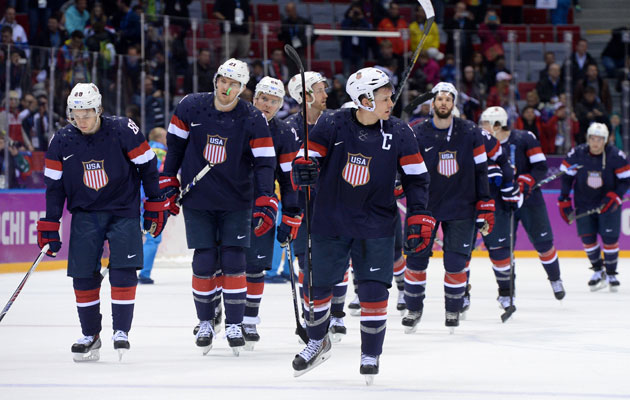 The Americans made no bones about it -- their goal coming into the Olympics was to win a gold medal. They believed it was their time, this was their best chance to do it for the first time in 34 years.
That showed in the bronze-medal game. How, you ask? The USA didn't seem to want to be there.
OK, so that's not entirely fair. The effort from the American team couldn't be questioned too much after the first period. The USA had some good pressure and guys like Ryan Kesler were showing they were playing for the medal by saving goals with half his body and making himself a wall.
Problem was, that effort didn't continue into the final 40 minutes while Finland had no such issues. It was no surprise then that the Finns ran away with the bronze, outscoring the USA 5-0 in the final two periods.
Never did that effort look worse than in the third period. Team USA entered the final 20 minutes only down two goals, still within reach at that point. Then the US had zero -- ZERO! -- scoring chances in the period. In total, the Americans only had five shots on goal. As a team that was losing. It got to the point that they were committing silly penalties and for the most part playing at half speed. At moments it looked like they were in an All-Star Game.
Questioning the effort of the American players happened immediately. Even the players were doing it right after the game.
"I think it started yesterday, we didn't show up to play a tough team in Canada and lost that game," captain Zach Parise said to NBC Sports after the game. "Just today, I thought we had a pretty good start but once we gave up that first goal, we kind of deflated. They played like they had something to win and we just kind of shut it down.
"It's kind of disappointing, kind of embarrassed about what happened, especially today. It wasn't a good effort by us."
Goalie Jonathan Quick, who was hung out to dry a few times, was equally harsh.
"We're professionals. We play back-to-backs all year long," Quick said. "There's no reason we show up and not piss a drop."
Excuse the effort away as being in a bronze-medal game all you want but the fact is Team USA was still playing for something and didn't show up for the final two periods. Normally the cliché of "that team wanted it more" is so ridiculous and almost insulting but in this case, it's indisputable. The Finns wanted it more than the USA and they got it.
Still, it is hard to read a ton into the bronze-medal game other than the teams' desire. If the US and Finland played in a different setting, perhaps in the knockout round or in pool play, it's probably not a five-goal difference. That's something to consider.
So when you look beyond that game, there are still some big concerns. What's as distressing as that effort was the fact that the USA offense disappeared. They were shut out in the final two games. Granted, those are two very good defensive teams but still, no goals in six periods. Against the trio of Canada, Finland and Russia, the USA had no goals at even strength.
Based on where Team USA has looked in tournaments outside of North America in the past, there are ways to try and look at a fourth-place finish in a rosy manner. But in a testament to USA Hockey, medals are the expectation now. That wasn't always the case but it is now. So even though they fared better than in Turin in 2006 or Nagano in 1998, it still feels disappointing, especially to end the Olympics on that note in the bronze-medal game.
The fact is the United States still brought a very strong team to the Olympics and assuming the NHL will return in 2018, is still going to be in the conversation, especially as the young players that made up the 2013 World Junior Championship team mature. Tempering the disappiontment with perspective is important.
But ending on that note, getting shut out by a combined 6-0 in two medal-round games stings. A tournament that started so well for the USA ended as one to forget.
Show Comments
Hide Comments
Pittsburgh has the talent and experience, but the Predators' fiery blue line should help them...

The Predators are riding an opportunistic defense and superb goalie, while the Pens boast elite...

Washington and Toronto set to face off March 3 in Annapolis
"Let's go, Preds!" chants take on a whole new meaning in the hype piece

Both Stanley Cup Final contenders cracked the list of top 10 teams searched in 2016-17

The Preds will need more from their blue-line depth, and Pittsburgh has to capitalize in s...