Ted Nolan returns to Sabres bench 16 years after winning Jack Adams
The last time Ted Nolan was with the Buffalo Sabres, he was winning the Jack Adams Trophy before being let go. Now he returns for another shot in Buffalo's rebuild.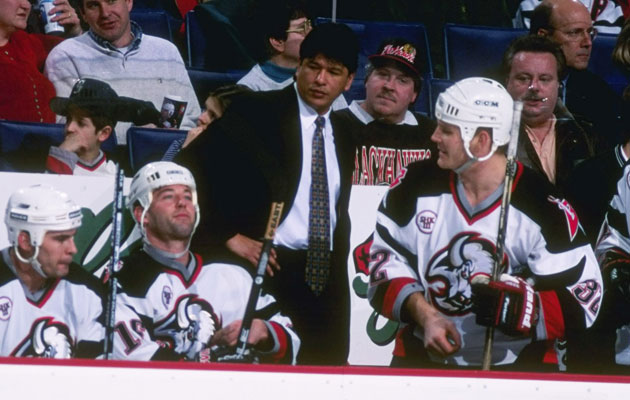 More NHL: Scores | Standings | League Leaders | Odds | Injuries | Power Rankings
Pat LaFontaine is not the only former Sabres great who returned to the Buffalo organization on Wednesday with the firing of Darcy Regier and Ron Rolston. The sweeping changes also bring about the return of former Jack Adams Trophy-winning coach Ted Nolan.
Nolan only had two short years in Buffalo, a tenure that culminated in the Sabres winning the division in 1996-97 and reaching the conference semifinals. It was good enough to earn him the honor as the league's best coach but that didn't save him from losing his job.
In the playoffs, goaltender Dominik Hasek wasn't pleased with his coach and he let everybody know by saying he didn't respect Nolan and wanted him out of town. That left management with a choice; go with the coach or go with the goalie. Well, goalies like Hasek don't come around often if ever, so the Sabres, who were being led by Darcy Regier, edged Nolan out of town, something that kept him out of the NHL coaching ranks for a decade.
Even though Nolan got a second chance in New York with the Islanders (that also only lasted two seasons), he always remained upset and a little confused by what happened in Buffalo.
Now everybody gets a chance to right a wrong of sorts. Nolan has been coaching the Latvian national team since 2011, a role he will continue in when Latvia goes to the Olympics this February, but he wanted to get back in the NHL. He was clearly overcome with emotion about returning to Buffalo now.
Will Nolan be able to make the same impact with these Sabres as he did with the Sabres nearly 20 years ago? No, obviously not. However it's excellent to see him get another shot. Despite the fallout with Hasek, Nolan was not a hated coach; just consider that a player on Nolan's first-year team in Buffalo, LaFontaine, is bringing Nolan back into the fold. That should tell you something.
Unfortunately for Nolan, he's not being given a great opportunity as Ron Rolston found out. There is not a lot of chance for success, but at this point Nolan seems thrilled enough with the opportunity. And hey, if the team is going to struggle to the finish line, everybody might as well enjoy a little nostalgia on the way there. It won't hurt that Nolan will produce a hard-working bunch to boot.
#Sabres practicing with Ted Nolan on the ice. (@bwipp) pic.twitter.com/IvnUQUcdt1

— Buffalo Sabres (@BuffaloSabres) November 13, 2013
Show Comments
Hide Comments
Our Latest Stories
Big losses by the Sharks and Blackhawks have Washington back on top

On day he signs entry-level deal with Canucks, Boeser scores Vancouver's third goal in 4-2...

The Penguins' leader in highlight reels has been extra feisty on some cringe-worthy cheap shots...
2017 SAHP NHL Global Series will pit Ottawa and Colorado against each other in Stockholm

Finland has churned out some winners in a league filled to the brim with diverse players

From the Caps' goaltender to the star-studded headlining duo of Chicago's offense, these guys...