The NHL's best contracts
On Wednesday, we looked at some of the worst long-term contracts in the NHL. And there are some incredibly bad ones. But because everything in the universe is in perfect balance and harmony, if there is a "worst" of something there also has to be a "best."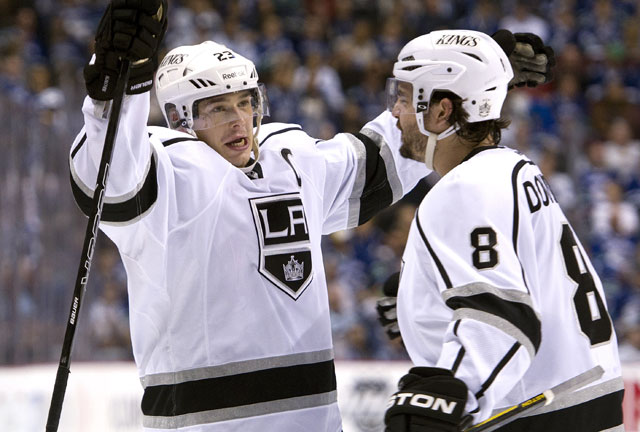 Dustin Brown (left) is one of the best bargains in the NHL. (Getty Images)
On Wednesday, we looked at some of the worst long-term contracts in the NHL. And there are some incredibly bad ones. But because everything in the universe is in perfect balance and harmony, if there is a "worst" of something there also has to be a "best."
And that's what we're looking at on Friday: some of the best contracts the NHL has to offer.
To make things fair, we're excluding players on entry-level deals and only looking at players who have signed at least a second contract.
Let's begin.
Total contract: six years, $19 million
Years remaining: two years, $6.2 million
This contract looked like a good deal for Los Angeles right from the very beginning, and it's only managed to get better as Brown has developed into a top-line player and helped lead the team to its first Stanley Cup victory last spring.
Brown has been as durable and consistent as a player can be over the past six years in Los Angeles, appearing in 485 of a possible 492 regular-season games, and consistently putting up seasons that see him finish in the neighborhood of 25 goals and 55 points. Along with the point totals, he has always been a strong possession player against tough competition. And as I mentioned in his spot in my recent top-50 player countdown, he is also one of the best players when it comes to drawing more penalties than he takes.
That's even more impressive given how physical he can be.
He was one of the Kings' best players on their Stanley Cup run and would have been a worthy recipient of the Conn Smythe Trophy given that he led the league in almost every postseason category.
Total contract: three years, $9 million
Years remaining: two years, $6 million
It's always fascinating to watch the Phoenix Coyotes and how they manage to keep putting a competitive team on the ice given their unsettled situation in the desert. General manager Don Maloney and coach Dave Tippett have done an incredible job the past three years to not only put a playoff team on the ice every year but to have also reached the Western Conference final on a shoestring budget with no owner to call their own.
There is some kind of NHL version of Moneyball going on out there, and they just keep finding quality players on a dime to make it all work.
One of those players is forward Radim Vrbata.
The Coyotes acquired from Tampa Bay in July 2009 and, after a couple of productive seasons, re-signed him to a three-year, $9 million contract before the 2011-12 season. He rewarded them with the best season of his career, scoring 35 goals to go with 27 assists. He's not likely to duplicate that 35-goal performance (it was aided by a 15 percent shooting percentage, well above his career norms -- he topped 10 percent just two other times in his 10-year career). But even if he doesn't, he's still a good deal for the Coyotes based on his two-way play and his ability to control possession against other teams' top players.
Total contract: four years, $14 million
Years remaining: two years, $7 million
When the Penguins signed Kris Letang to a four-year, $14 million contract two years ago, it seemed like one of those deals that would be a bit of an overpay early on but could be a steal by the end.
And that's exactly what happened for the Penguins. Letang has developed into one of the best blueliners in the NHL.
The Penguins are a different team when he's not in the lineup (or even on the ice), and he plays big minutes for them in every situation.
He quarterbacks their power play and has the type of shot they need from the blue line to make it work. After some accuracy problems early in his career, he has improved his ability to actually get the puck on the net. He kills penalties and is a top-pairing defenseman at even strength. You can count on your hands and have fingers left over the number of defensemen in the NHL who are better than him, yet he doesn't even come close to cracking the top 50 in terms of largest salary cap hits for the position.
That will no doubt change when it's time to do a new contract. But for the next two years, he's a steal for the Penguins.
Total contract: six years, $25 million
Years remaining: for years, $16 million
One of the best two-way players and one of the most creative forwards in the NHL for just a little more than $4 million per year over the next four years. That's a winner for Dallas (or any team that gets a player like Eriksson for that price).
Over the past four seasons, Eriksson is near the top 20 in goals (18th) and points (21st).
Look at this way: Only 20 players over that stretch have recorded more points than Eriksson's 278. The 20 players ahead of him have an average salary-cap hit of $6.8 million. Only three players on that list make less than $6 million per year. Nobody makes less than $5.3 million. Eriksson makes just $4.1 million.
And will do so for the next four years.
Other contracts worthy of a mention
Mike Smith, Phoenix Coyotes: Another steal by Don Maloney in Phoenix, Mike Smith signed a two-year, $4 million contract to replace Ilya Bryzgalov and he had one of the best seasons in the NHL among goaltenders last season. Some regression is a given this year, but it's still a good deal for the Coyotes.
Curtis Glencross, Calgary Flames: Jay Feaster has taken on/signed some bad contracts over the past couple of years, but Curtis Glencross at four years and $10.2 million is not one of them. He's a 25-goal scorer and one of the Flames' best possession players.
Stephen Weiss, Florida Panthers: Having spent his entire career with Florida has made it easy to overlook Stephen Weiss, but he's an excellent center who puts up strong numbers and plays an impressive two-way game for just a little more than $3 million per year.
For more hockey news, rumors and analysis, follow @EyeOnHockey and @agretz on Twitter and like us on Facebook.
Pittsburgh sits atop them all as the repeat champs, while Nashville rises up after its big...

Islanders could also be loading up for scoring talent, and Vegas has plenty of D-men to se...

Fired by Dallas this offseason, Ruff is expected to replace Jeff Beukeboom
Even without a can't-miss prospect, the first round features a handful of solid center pic...

Casey Mittelstadt goes off the board in the top 10 picks of the 2017 NHL Entry Draft

New Jersey makes the Halifax Mooseheads star the first overall selection in this year's dr...