Tickets for Kings-Ducks outdoor game in LA 'selling at a record clip'
The NHL might really be onto something with the Ducks-Kings game at Dodger Stadium as tickets are 'selling at a record clip' already.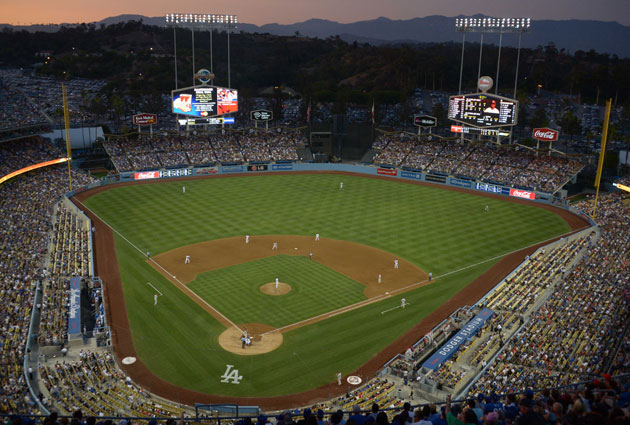 More NHL offseason: Rumors | Top 50 Free Agents | Buyout Tracker | Trades | Transactions
When LA's Dodger Stadium was announced as a venue for an outdoor game in the NHL's upcoming Stadium Series, the general reaction from people was to laugh. Not only does the idea of ice hockey outdoors in Southern California seem ridiculous, but the inevitable jokes/complaints about hockey not mattering in LA were thrown about.
There's no room to laugh now. Tickets for the game in LA between the Kings and the Ducks are already proving to be in huge demand as Kings/AEG Sports COO Kelly Cheeseman told Jon Rosen of LA Kings Insider.
"We've started re-sales in conjunction with the Ducks' season ticket holders [last week], and the league has so far shared with us that we're selling at a record clip, faster than any of the previous Winter Classics or games, in conjunction with the presales for the season ticket members. So that is a very promising sign. They're anticipating a completely different buzz around this game, compared to any of the other games, and that translates not just into the ticket sales, but also into our broadcast partners as well. 'It just has a different feel' is what they keep telling us."
Well how about that, it's not even the much-ballyhooed Winter Classic nor does it have one of the usual ratings-monsters in the game and the tickets are going like hotcakes. Granted it helps that it's an "event" and LA is an "event" town, but let's not take away from the big sales and the numerous hockey fans that do call Southern California home.
Making it a little more impressive is that it's only for the game. There will be no Alumni Game or any other real festivities, just the game (if you ask me it's good there's no Alumni Game, the Winter Classic still should be different than the other outdoor games and that's one way how).
As to any other further details, Cheeseman didn't reveal much other than to note that you will definitely represent Southern California. I doubt that means there will be a fake beach set up in centerfield, though.
Show Comments
Hide Comments
Our Latest Stories
The Penguins' leader in highlight reels has been extra feisty on some cringe-worthy cheap shots...

2017 SAHP NHL Global Series will pit Ottawa and Colorado against each other in Stockholm

Finland has churned out some winners in a league filled to the brim with diverse players
From the Caps' goaltender to the star-studded headlining duo of Chicago's offense, these guys...

Scoring his 41st goal of the year in a 3-1 win over the Buffalo Sabres, the Pittsburgh Penguins...

A nightmare comes to life with Gary Bettman downplaying the idea of sending NHL stars to South...