Tim Thomas traded to Stars day after Panthers land Roberto Luongo
So much for the Tim Thomas and Roberto Luongo dream team in Florida. Thomas was traded to the Stars on Wednesday.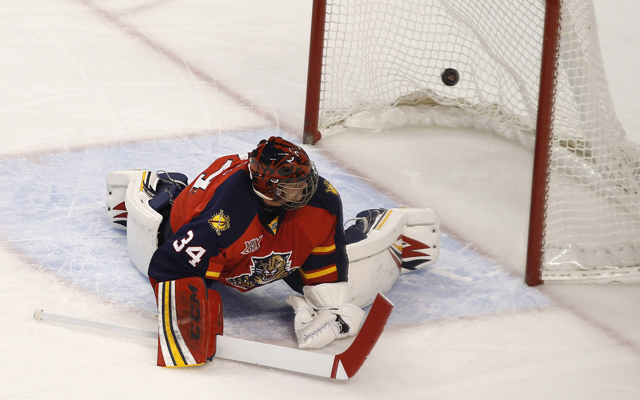 More NHL: Trades | Scores | Standings | League Leaders | Odds  | Power Rankings
Sorry everybody, we won't get the Roberto Luongo and Tim Thomas tag team in the Florida Panthers' crease.
A day after the Panthers landed Luongo from the Canucks, Thomas was traded to the Dallas Stars just before the NHL's trade deadline. So the dream team broke up before they ever even united.
Luongo once again won the day on Twitter with his response.
@TSNBobMcKenzie NOOOO!!!!!!!!

— Strombone (@strombone1) March 5, 2014
Indeed, Luongo. Indeed.
In exchange for Thomas the Panthers get Dallas' backup goalie Dan Ellis. That leaves plenty of room for Thomas with the Stars to get action. From Florida's perspective, Ellis is signed through next season while their current backup, Scott Clemmensen, is not. Clemmensen cleared waivers on Tuesday so he will likely be sent to the AHL.
Thomas had sounded like he was interested in staying in Florida but that was before the big trade on Tuesday. GM Dale Tallon said that he would speak to Thomas either after Tuesday night's game or on Wednesday to see what Thomas wanted to do considering he had a no-trade clause. I guess we know the answer.
Both goalies talked about the possibility of playing together after their infamous spat in the 2011 Stanley Cup Final and Thomas joked about it a bit on Tuesday night but both said it wouldn't be a problem. However Thomas probably saw he wasn't going to play as much and was OK with a deal.
It's an interesting fit for the Stars as Kari Lehtonen has been banged up a bit and Ellis was somewhat shaky as the backup. It's certainly a change of pace for Thomas who goes from the bottom of the standings to a team that's right in the mix for a playoff spot in the West.
Thomas signed a deal with the Panthers in the preseason after sitting out for a full season. He has a .909 save percentage behind a bad Panthers defense.
Show Comments
Hide Comments
Our Latest Stories
Big losses by the Sharks and Blackhawks have Washington back on top

On day he signs entry-level deal with Canucks, Boeser scores Vancouver's third goal in 4-2...

The Penguins' leader in highlight reels has been extra feisty on some cringe-worthy cheap shots...
2017 SAHP NHL Global Series will pit Ottawa and Colorado against each other in Stockholm

Finland has churned out some winners in a league filled to the brim with diverse players

From the Caps' goaltender to the star-studded headlining duo of Chicago's offense, these guys...