Tomas Vokoun recalled by Penguins after AHL conditioning stint
Tomas Vokoun is back with the Pittsburgh Penguins. After missing the entire season with a blood clotting issue, he was recalled from the AHL after a brief conditioning stint.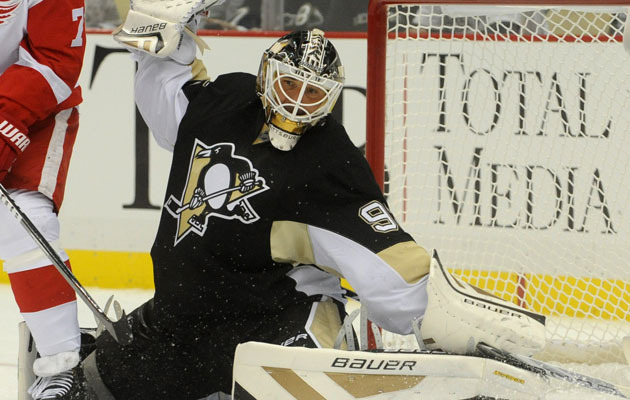 More NHL Playoffs: Schedule, TV listings | Expert Picks | Bracket | Scores | Odds
On Monday the Pittsburgh Penguins made an addition to their roster before the playoffs get under way; the recalled Tomas Vokoun from the AHL.
Vokoun has missed the entire season after a frightening situation unfolded in the preseason after blood clots were discovered in his leg, surgery dissolving the clots just in time. He wasn't sure at that point what the future had in store; he might return this season or he might not play again, ever.
He has returned. Vokoun was given clearance to start skating in the end of February and this past week he was sent down to AHL Scranton-Wilkes Barre for a conditioning assignment. Two starts later, he's back with the Penguins, joining the team despite not playing a single regular-season game.
It's interesting timing, of course, given what happened in last year's playoffs. Vokoun came in to replace the struggling Marc-Andre Fleury and took the Penguins to the Eastern Conference final. With Fleury's recurring playoff struggles, it's good to have Vokoun back. But to expect anything at this point from Vokoun would be unwise, he's been out for so long and two games worth of a rehab stint isn't much. The Penguins could very well stick with Jeff Zatkoff as the backup for now.
But this is good to see nonetheless for Vokoun's sake. He still might not play another NHL game -- he has said retirement was a possibility even before the blood clot issue -- but him getting back to his normal self is obviously good news.
Last season Vokoun had a .919 save percentage in 20 games behind Fleury, his first season in Pittsburgh. He only got better in the playoffs with a .933 save percentage and 2.01 goals against average in 11 starts.
Show Comments
Hide Comments
Our Latest Stories
The Penguins' leader in highlight reels has been extra feisty on some cringe-worthy cheap shots...

2017 SAHP NHL Global Series will pit Ottawa and Colorado against each other in Stockholm

Finland has churned out some winners in a league filled to the brim with diverse players
From the Caps' goaltender to the star-studded headlining duo of Chicago's offense, these guys...

Scoring his 41st goal of the year in a 3-1 win over the Buffalo Sabres, the Pittsburgh Penguins...

A nightmare comes to life with Gary Bettman downplaying the idea of sending NHL stars to South...