Tomas Vokoun released from hospital, still no timetable for return
Penguins goalie Tomas Vokoun has been released from the hospital after having a blood clot on his pelvis removed but there's no timetable for his return.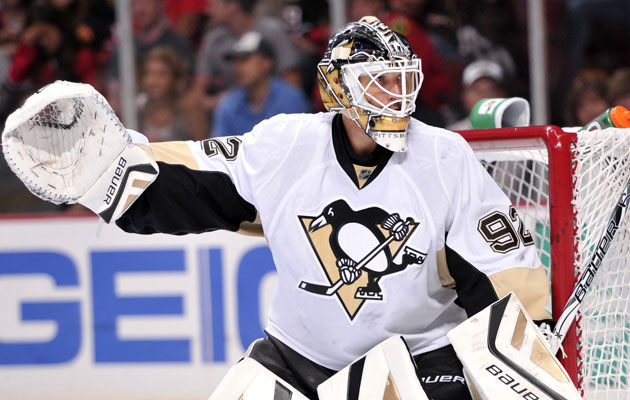 NHL previews: Atlantic Division | Metropolitan Division | Central Division | Pacific Division
Penguins coach Dan Bylsma announced on Wednesday that goaltender Tomas Vokoun has been released from the hospital after undergoing a procedure to remove a blood clot on his pelvis.
Vokoun was sent to the hospital last week after practice when he noticed a growth on his thigh. At the hospital the blood clot was identified and removed but Vokoun had to remain in the hospital a while longer.
The veteran goalie might be out of the hospital but it's going to be a while before he's back on the ice. As of now there is still no timetable for his return, which figures to be a ways off. In the meantime, the Penguins have to figure out what to do with their backup goalie spot, a position they will likely stay in house with Jeff Zatkoff behind Marc-Andre Fleury.
Dealing with blood clots will be an issue and an adjustment for Vokoun, but he's not the first player to go through it. Tomas Fleischmann had clotting issues when he played for the Avalanche and now gets by just fine. As a member of the Panthers, he hasn't missed a game in the either of the past two seasons.
Show Comments
Hide Comments
Our Latest Stories
On day he signs entry-level deal with Canucks, Boeser scores Vancouver's third goal in 4-2...

The Penguins' leader in highlight reels has been extra feisty on some cringe-worthy cheap shots...

2017 SAHP NHL Global Series will pit Ottawa and Colorado against each other in Stockholm
Finland has churned out some winners in a league filled to the brim with diverse players

From the Caps' goaltender to the star-studded headlining duo of Chicago's offense, these guys...

Scoring his 41st goal of the year in a 3-1 win over the Buffalo Sabres, the Pittsburgh Penguins...