Tomas Vokoun to get nod again, start Game 1 for Penguins
Would the Penguins go back to Marc-Andre Fleury in net for Game 1 vs. Ottawa? The answer is no, Tomas Vokoun will get the start.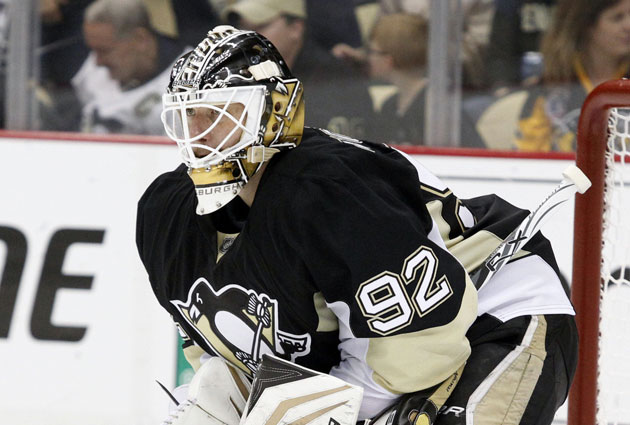 More NHL Playoffs: Scores | TV Schedule | Expert Picks | Odds | Mock Draft | Rumors
The big question for the Pittsburgh Penguins going into Game 1 vs. the Ottawa Senators on Tuesday night was who was going to start in net. On Tuesday morning we got our answer: Tomas Vokoun.
Vokoun took over after Marc-Andre Fleury was benched following Game 4's loss to the Islanders and he was strong for Pittsburgh, helping the Pens to wins in the next two games for the series victory. Even with that some wondered if the Penguins would turn back to Fleury, he's their No. 1 still and you always have to be concerned about the state of mind of your netminders.
But no, it will be Vokoun, because even more important than Fleury's state of mind is winning games right now and there's little disputing that Vokoun gives them a better chance at this moment. He proved that in the last two games.
Ever since the Penguins won the Stanley Cup, Fleury has really struggled in the postseason, something about it has brought out the worst in him. This year was no different. After shutting out the Islanders in Game 1, Fleury gave up 15 goals in the next three games, giving the Penguins and their fans flashbacks to last season's debacle against Philadelphia in the first round.
That's precisely why they went out and signed Vokoun in the offseason. He is a very strong No. 2 goalie -- almost a co-No. 1 with Fleury this season -- which is a luxury they didn't have before.
Just consider their raw numbers from this playoff season, small sample size warnings and all. Fleury has a .891 save percentage and a 3.40 goals against average. Vokoun has a .957 save percentage and a 1.41 goals against average. That's more than a slight discrepancy. Fact is, Vokoun gives Pittsburgh their best shot at the moment, not Fleury.
This should not have been a tough decision for coach Dan Bylsma, and it might not have been. He was being very secretive about who would play but he might have known as soon as Game 6 was over in the first round that Vokoun was going to start. The delay in announcing it made it seem like there was a struggle, though. A coach has to weigh everything but when all was put on the scales in this case, there was no way they should have tilted in Fleury's favor.
The 45-year-old forward remains unsigned but has shown little desire to hang up the skates

Pittsburgh also has been linked to Matt Duchene and could be in the mix for Tyler Bozak

Nashville extends its 24-year-old restricted free agent with what could be bargain numbers
Calgary forward is all for playing for the Flames, but he also likes the idea of going to...

Plans for renovating KeyArena are now also being overseen by NHL-to-Seattle hopefuls

With Leslie Anderson selling the Rockets, there is newfound hope for hockey in Houston