Top free agents remaining: There's still talent but is there space?
By now you'd think the free-agent market would be a barren wasteland but there are still some talented players, just not many spots.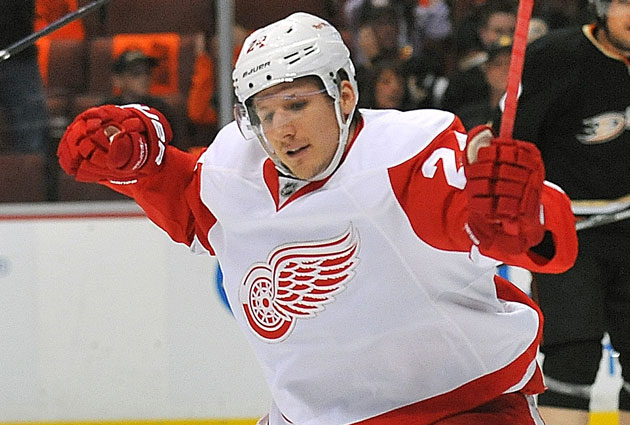 More NHL offseason: Rumors | Top 50 Free Agents | Buyout Tracker | Trades | Transactions
One thing this summer has brought to the NHL is a squeeze on serviceable veterans. It happens every year when players don't get signed and are left to explore all of their multitude of options but it just seems more pronounced this season.
Already we're seeing camp tryouts being extended across the league. Guillaume Latendresse was invited to camp by the Phoenix Coyotes. The Flyers are expected to do the same with Simon Gagne. Radek Dvorak is going to Carolina, and Mathieu Garon to Kings camp. Realistically they are probably long shots to make those teams, but they're getting a shot.
There's a host of others who remain unsigned, and it's pretty surprising at this point. To call them "serviceable vets" would imply that they're likely past their primes, and while some of the remaining UFAs are long in the tooth, there are others that are hardly nearing AARP application days.
Coming right to mind in this regard is Damien Brunner , the Swiss player who made his NHL debut with the Red Wings last season at 26. He got off to a fast start for Detroit to ultimately finish the season with 12 goals and 14 assists in 44 games. He was just as productive in the playoffs with five goals and four assists in 14 games.
Why he has remained unsigned seems mysterious until you remember that some of these guys just had the misfortune of being free agents in the wrong summer. The cap coming down has meant less room for veteran players, teams staying in-house and in many cases going with younger guys on two-way contracts to plug some holes. There just isn't as much room, and at this point the majority of the top contenders have already exceeded their cap space, leaving no room. Teams that do have room have it for a reason; they don't have a lot of money. That or they aren't interested in spending it because the season's outlook isn't bright.
At this point Brunner is waiting things out, as his agent told Dave Davis of Kukla's Korner.
"We are being patient, and Damien is wide open to any team at this point,"
It's almost to the point that you'd expect Brunner's only avenue into the NHL this season at this point would be as a mid-season addition, likely for a team with injury issues. He's still young, has good speed and has shown he can be a scorer on the wing. With his options limited he has little leverage to ask for a lot of money. Eventually the deal he signs will make everybody wonder why their favorite team didn't take a chance.
Brunner is hardly alone in the group of remaining free agents feeling the squeeze. Combine the fact that the game is getting younger with the money concerns across the league, and guys who you'd expect to be signed already are out in the cold. Red Wings GM Ken Holland explained part of the reason to Kevin Allen of USA Today.
"There is always a [market] correction that goes on in the month of August or early September," Holland told Allen. "Players start out wanting to play for three or four million, but end up playing for a lesser price for one year, thinking they can have a good year and drive their salary next year."
A guy Holland knows well, Brunner is one of those players. Same with these remaining UFAs below.
Centers: Tim Connolly , Kyle Wellwood , David Steckel
OK, so there's not a lot of help left at center, which isn't surprising. Centers are like left-handed relievers in baseball; they'll get scooped up almost every time. This collection of guys isn't without their warts, but also not without their merits.
Connolly always seems to be dealing with an injury, but when he is on the ice he has proven he can put up point totals usually in the 40s. It's just that part about staying on the ice that's tough. Wellwood's 47-point campaign two seasons ago seems like the outlier on his resume. As for Steckel, well he isn't a guy that would be counted on for a lot; he'd be more of a "role player" and is somewhat of the prototypical mid-season pickup.
Wingers: Mason Raymond , Brenden Morrow , Vinny Prospal , Brad Boyes
Here's a group with a little more panache. Look, I'm not saying these are all A+ free agents here but they're players who would seem to be able to find spots across the league, at least if it weren't for that pesky salary cap.
Raymond is like Brunner in that he's still young at 27 and has shown some scoring capability on the wing. He had a career season in 2009-10 with 25 goals and 28 assists. However you can understand some apprehension as Raymond's numbers have mostly been on the decline with an average of 21 points in the past two seasons with Vancouver.
Prospal is one of the more surprising names to me. He's certainly up there in age but he's remained a productive player. He had 30 points for the offensive-deficient Blue Jackets last season, 55 points the season before. Plus he hasn't missed a game in either season. Boyes is in the same boat. He had a bit of a career revival last season with the Isles on a short, cheap deal. He didn't set the world on fire but his 35 points in 48 games were a nice addition. While he's a long way from his 43-goal days, he showed he still has some ability on his stick.
Then there's Morrow, the longtime Stars captain who went to Pittsburgh in a trade. He has lost a step or three and is a bottom-six guy at this point. He's the type of guy who can expect to start fielding calls as the season wears along; that usually happens with role-playing veterans.
Defensemen: Ron Hainsey , Tom Gilbert , Ryan Whitney , Ian White
Again, not a wholly appealing group but is there really no room for these guys in the NHL? They are all a bit slow, which isn't an appealing attribute. But as a bottom defenseman, would you really mind seeing one or two of these guys?
Hainsey is the most intriguing one, not just for what he can do but why he's still a free agent. It's easy to speculate that it's some form of retaliation from the owners for Hainsey's outspoken role in the lockout for the NHLPA. Or maybe it just has to do with his ability and financial situations across the league, which is the more likely option. He hasn't scored a goal in the past two seasons, but you don't get Hainsey to score. He played big minutes last season for Winnipeg, averaging 22:52 per game, but perhaps the price keeps teams away; he had a cap hit of $4.5 million last season. Sure, it would come way down, but maybe the starting point is still too high for some teams' liking.
Gilbert is another guy who you'd think could have a spot still. He's not putting up the point totals he did earlier in his career, but he's still good for some offense while his main focus is on the defensive side. I don't think he was so bad in Minnesota that he wouldn't get a chance; it's just getting a chance at the right price for some team is the challenge.
Goaltenders: Ilya Bryzgalov , Tim Thomas , Jose Theodore
OK, this group is just intriguing. I would love to see what Bryzgalov could do with another chance on a cheap deal, and the same goes for Thomas because last time we saw him he was still on top of his game. Theodore is a tougher sell and might have hit the end of his line.
But in the case of each, they should keep in shape and their phones nearby because you never know when a goalie is going to be needed midseason.
Show Comments
Hide Comments
Series schedules, results and updates from the first round of the Stanley Cup race

St. Louis, New York and Edmonton eked out victories that eliminated Minnesota, Montreal and...

Fresh off the Predators' sweep of the Blackhawks, Gnash is fired up for his team
A tougher opponent awaits either Toronto or Washington, and the Bruins hung on to beat Ott...

Linesman Don Henderson is reportedly seeking $10.25 million in damages from a January 2016...

Two of the NHL's top four teams of 2016-17 are out of the playoffs