Toronto doesn't need Roberto Luongo or any other veteran goalie
The Maple Leafs have been just fine with James Reimer and Ben Scrivens in goal, and there is no need to mess with that.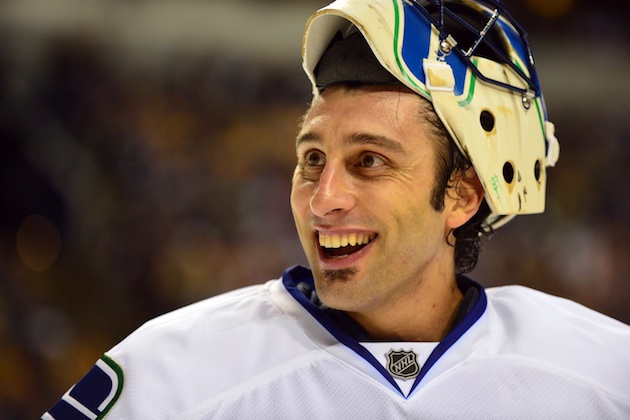 More NHL: Scores | Standings | Odds | Fight-O-Meter | League Leaders | Rumors
For the first time in eight years, the Toronto Maple Leafs are getting goaltending that is better than the league average.
It's not a coincidence that this is also the first time in eight years that the Maple Leafs are on their way to the playoffs (barring an epic late-season collapse, of course).
Most of their success this year comes down to two things: Their forwards are shooting the lights out -- maybe even getting a little bit of shooting luck along the way -- and their goalies (James Reimer and Ben Scrivens) have been really, really good.
They've been so good that it should have put an end to the idea that the Maple Leafs need to go out and acquire a veteran goalie, whether it be Roberto Luongo or somebody else.
But it hasn't.
General manager Dave Nonis hasn't helped that by saying within the past month that he wouldn't mind adding a veteran, and the Luongo speculation simply will not go away.
The Toronto Star's Damien Cox kept it going by reporting on Thursday night that talks between the Maple Leafs and Canucks quietly resumed over the past week.
From Cox:
As has been the case for 11 months, ever since it became clear the Vancouver Canucks intended to hand the No. 1 goaltending job to Cory Schneider, it's clear all roads for Luongo's exodus out of British Columbia logically lead to Toronto.

Which is probably why talks between the Canucks and Maple Leafs quietly resumed this week after weeks of silence between the two teams. That doesn't mean a deal is at hand, although it's believed Vancouver GM Mike Gillis is no longer demanding the likes of Nazem Kadri or Jake Gardiner in a proposed trade.

Gillis has a troubling hole to fill at centre and Tyler Bozak remains a comfortable fit.
My problem with that is Toronto isn't a logical fit for Luongo. Not anymore, anyway. Maybe it was over the summer, but not with the way that Reimer and Scrivens have played this season.
The Maple Leafs have one of the most valuable assets an NHL team can have in a salary-cap world: Cheap goaltending -- they're spending less than $2.5 million this season and next season on the position -- that also happens to be providing better-than-average play.
Why mess with that for a 33-year-old goalie with a huge contract?
Trading for Luongo not only means you're giving up assets -- Vancouver would have to want more than Tyler Bozak, right? -- but also taking on his remaining cap hit. Or at least part of it. Having good goaltending for a cheap price in a salary-cap world gives you the opportunity to spend more money in other areas to give yourself a better, deeper team. The Leafs have that ability. Taking on Luongo's contract, even if Vancouver absorbs some of it, doesn't seem like it's worth giving up that cap flexibility.
Especially if you're not signficantly upgrading the position, and I'm not sure Luongo would at this stage of his career.
Still, the Luongo speculation isn't going away anytime soon. Mostly because it would be beneficial for the Canucks to find a way to move on. Cory Schneider has started more games this season (and has played better) while the Canucks have more than $9 million of their salary-cap space committed to goaltenders. That's not exactly an efficient use of resources, which is something the Canucks even admitted this week.
"From an efficiency standpoint, to have $9.33 million invested in two goaltenders when only one of them can play is clearly not the most efficient use of resources," assistant general manager Laurence Gilman told the Vancouver Sun this week. "That being said ... Roberto is still in the prime of his career and can stabilize an NHL team for years to come. That's an asset that's extremely hard to come by. It would be foolish for us to trade Roberto for a rental player."
The other name mentioned by Cox was Calgary's Miikka Kiprusoff, which makes even less sense than Luongo. Not only because Kiprusoff has a larger cap hit next season -- Kiprusoff will count $6 million against the cap while Luongo will count $5.3 million -- but also because his play has declined significantly the past couple of years. And he might not even be interested in moving out of Calgary.
Even if Vancouver and Calgary decide to try to move their veteran goalies, they're going to have a hard time finding a match given how few teams in the NHL are in the market for a big-money player on the wrong side of 30. Not many teams should be interested in taking on that sort of contract while also giving up assets for a declining goalie.
And that should include the Toronto Maple Leafs.
Show Comments
Hide Comments
Anaheim will be without two key forwards and possibly its No. 1 goalie in Nashville on Mon...

Pittsburgh makes a fool of Ottawa's top-line defense with four goals in the first period a...

"Hank" then gets tackled by teammate William Nylander in a celebration for Team Sweden
Series schedules, results and updates from the Eastern and Western conference finals

Nashville can advance to the Stanley Cup Final with a win at home in Game 6

Sidney Crosby logs two points as Pittsburgh ties its series with Ottawa 2-2