Tortorella wants to 'kick their ass and get outta here' in MSG return
John Tortorella returns to Madison Square Garden on Saturday to face his old Rangers team. Is Torts sentimental? Come on, this is Torts we're talking about.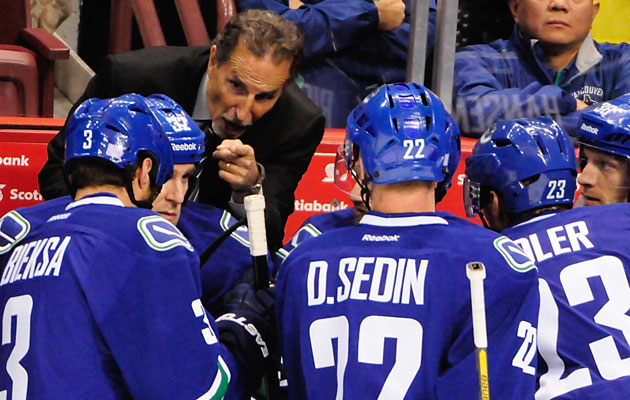 More NHL: Scores | Standings | League Leaders | Odds | Injuries | Power Rankings
The Vancouver Canucks make their annual visit to Madison Square Garden on Saturday to take on the New York Rangers, bringing about the long-awaited (OK, not that long) return of former Rangers bench boss John Tortorella. His time in New York was ... memorable.
No matter how it ended, he coached those Rangers for many seasons and had some good times in New York. So does he have anything special planned for his first game back in Manhattan?
Come on, this is John Tortorella we're talking about here.
"I'm going to coach this game, hopefully kick their ass and get outta here" - Torts, asked if he'd be visiting any Rangers #Canucks

— Vancouver Canucks (@VanCanucks) November 30, 2013
Would you expect anything different from Torts? You certainly shouldn't. It's not like he's having a big homecoming or anything.
He might get out of the building without visiting any of his former players (who reportedly thew him under the bus, helping to lead to his ouster) but the other reunion many want to see: Tortorella and New York Post writer Larry Brooks.
Show Comments
Hide Comments
Our Latest Stories
Senior Tony Bruns set a state and national record on a day his team wishes to forget

Crosby won't have to pass the torch for a while, but McDavid is proving to be a worthy hei...

The new contract won't end the Trouba trade rumors, though
Plus, four other teams whose hot starts make them tougher to project

After his emotional performances this week, Anderson has taken an indefinite leave of abse...

The Penguins goalie situation is back to normal with Murray's return from a broken hand