Tortorella wants to 'kick their ass and get outta here' in MSG return
John Tortorella returns to Madison Square Garden on Saturday to face his old Rangers team. Is Torts sentimental? Come on, this is Torts we're talking about.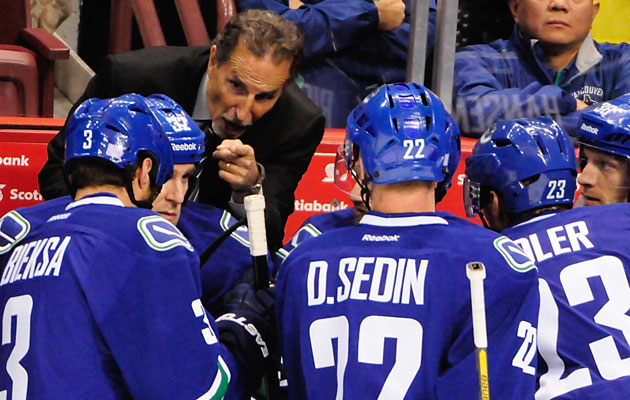 More NHL: Scores | Standings | League Leaders | Odds | Injuries | Power Rankings
The Vancouver Canucks make their annual visit to Madison Square Garden on Saturday to take on the New York Rangers, bringing about the long-awaited (OK, not that long) return of former Rangers bench boss John Tortorella. His time in New York was ... memorable.
No matter how it ended, he coached those Rangers for many seasons and had some good times in New York. So does he have anything special planned for his first game back in Manhattan?
Come on, this is John Tortorella we're talking about here.
"I'm going to coach this game, hopefully kick their ass and get outta here" - Torts, asked if he'd be visiting any Rangers #Canucks

— Vancouver Canucks (@VanCanucks) November 30, 2013
Would you expect anything different from Torts? You certainly shouldn't. It's not like he's having a big homecoming or anything.
He might get out of the building without visiting any of his former players (who reportedly thew him under the bus, helping to lead to his ouster) but the other reunion many want to see: Tortorella and New York Post writer Larry Brooks.
Show Comments
Hide Comments
Science says guitars and pucks are linked, so maybe Ozzy and Metallica are key to better play...

The NHL wild-card race is heating up and a top team awaits its inevitable early exit

Bill Foley said 'there were a lot better ways to spend $750 million' than to bring the NFL...
The NHL reverses course and wisely opts for transparency in what should be a huge off-season...

For first time since 2005-06, Edmonton is headed for a Stanley Cup run

With loss to Hurricanes, Detroit eliminated from postseason contention for first time since...