Urban Meyer: Columbus 'really has no professional sports teams'
Ohio State football coach Urban Meyer says an advantage in recruiting is Columbus 'really has no professional sports teams.' The Blue Jackets say hello.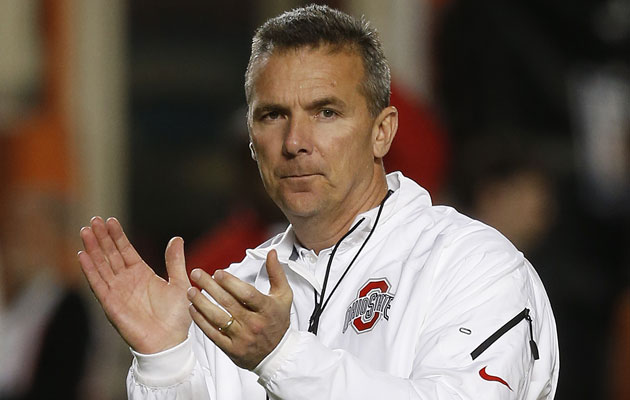 More NHL: Trades | Scores | Standings | League Leaders | Odds  | Power Rankings
College football head coaches find whatever pitch they can use when it comes to recruiting the best high school players from across the country. It's a brutal business and coaches have to use all the advantages they have.
For a lot of universities, one of those advantages is being a big fish in a small pond. A lot of schools play in cities without professional sports teams so they get the pro treatment. Schools like Nebraska, Alabama, Oklahoma and Florida all come mind.
One school that doesn't have that advantage is The Ohio State University in Columbus, Ohio. Just don't tell that to Buckeyes football coach Urban Meyer. From a recent interview with the Atlanta Journal Constitution:
Why should Georgia's elite 2015 prospects consider Ohio State?

"You get a premium education with the opportunity to go compete for a national championship in a large city that really has no professional sports team. There's a lot to be offered up here."
Well he was having a good pitch until he hit that "really has no professional sports teams" part.
Coach Meyer, the Blue Jackets would like to say hello from that nice arena in downtown Columbus. They are in the NHL, have an award-winning goaltender with a fun name, uniforms and everything. It's really pretty great.
(Nevermind that Columbus is also home to Major League Soccer's Columbus Crew or even the Triple A affiliate of the Cleveland Indians, the Columbus Clippers.)
Now it's not really deniable that the Buckeyes football team is the biggest draw in town, they are a pretty big deal and for good reason with their rich history. But they're not the only show in town. If the Blue Jackets make it into the postseason this year maybe he'll be forced to take notice.
Maybe the Blue Jackets will have to send Stinger over to the Ohio State campus to beat up Brutus because surely a hockey mascot could handle this guy.
For what it's worth, Meyer did make some small amends with the Blue Jackets by showing up and Joining the Battle.
Join the Battle! #CBJ pic.twitter.com/pyArtCkK18

— NHL Blue Jackets (@BlueJacketsNHL) March 23, 2014
Show Comments
Hide Comments
For first time since 2005-06, Edmonton is headed for a Stanley Cup run

With loss to Hurricanes, Detroit eliminated from postseason contention for first time since...

Flames-Capitals would pit underdogs vs. title favorites, while Pens-Oilers would showcase elite...
The Ducks are outshining their Pacific competition, while the Habs and Predators offer lots...

Big losses by the Sharks and Blackhawks have Washington back on top

On day he signs entry-level deal with Canucks, Boeser scores Vancouver's third goal in 4-2...