Urban Meyer: Sorry Blue Jackets, Crew for no pro teams comment
Ohio State football coach Urban Meyer issued an apology to the Columbus Blue Jackets (and Crew) for his recent 'no professional sports teams' in Columbus remark. He meant pro football.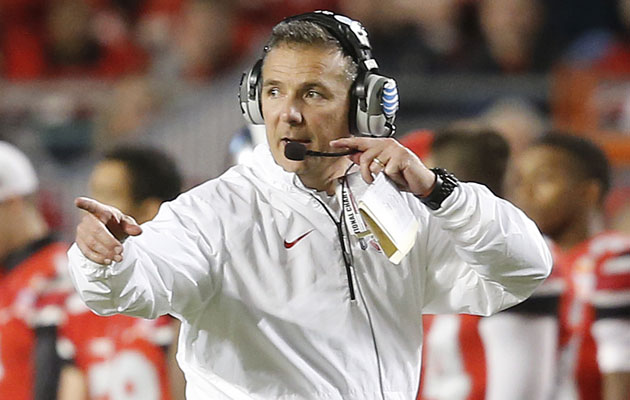 More NHL: Trades | Scores | Standings | League Leaders | Odds  | Power Rankings
To the Columbus Blue Jackets (and Columbus Crew of the MLS), Ohio State football coach Urban Meyer has something to say: I'm sorry.
Recently Meyer was talking about recruiting players from out of state (Georgia specifically) to Columbus, Ohio, and the state's big university. In talking about it he made the comment that there "really are no professional sports teams" in Columbus. That caught the attention of Blue Jackets and Crew fans in Ohio's biggest city.
Well, Meyer didn't intend for it to come out that way and so he sent a message to the Columbus Dispatch to clarify.
"I have great respect for both the Columbus Blue Jackets and the Columbus Crew organizations," Meyer wrote. "The intent of my comment about football recruiting was that Columbus doesn't have professional football. I should have made that point clear, and I do apologize for the misunderstanding.

"I am pulling for the Blue Jackets in their playoff drive and I wish the best for the Crew under its new leadership."
Certainly that's a fair mistake, though the distinction should have been made, as Meyer admitted.
Regardless of the Jackets and Crew's presence, the fact does remain that the Buckeyes football team is the biggest draw of them all in Columbus, helping to underscore his overall sentiment that if you go to Ohio State for football, you will get a lot of coverage and attention. Still, it came across as a bit of a slight to the other teams that call the city home.
But there are no hard feelings. As Meyer said, he's supporting the Jackets in their push to the playoffs. Here's proof.
Join the Battle! #CBJ pic.twitter.com/pyArtCkK18

— NHL Blue Jackets (@BlueJacketsNHL) March 23, 2014
Plans for renovating KeyArena are now also being overseen by NHL-to-Seattle hopefuls

With Leslie Anderson selling the Rockets, there is newfound hope for hockey in Houston

Pittsburgh Penguins' repeat Conn Smythe Trophy winner has more than hockey on his athletic...
Russian outlets suggest Olympic participation is still on the table, but NHL has repeatedly...

Buffalo's forward suits up in Da Beauty League as he prepares to return to Sabres in 2017-...

Penguins goalie shows support for Thunder Bay's Gavin Currie