USA Hockey opens Olympic camp with one goal in mind: gold
USA Hockey and its 48 invitees to camp won't be skating this week outside Washington but the message is still being sent -- the goal is gold.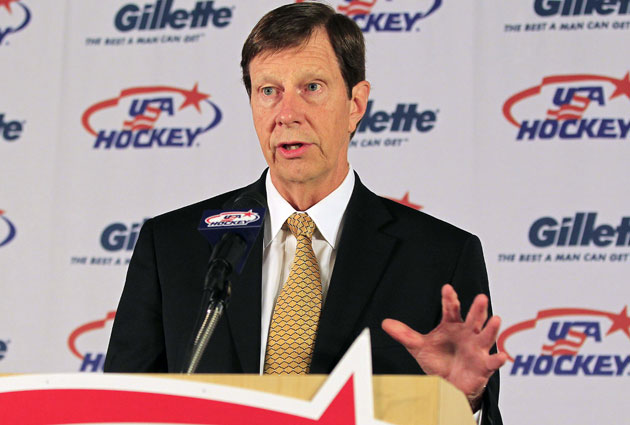 More NHL offseason: Rumors | Top 50 Free Agents | Buyout Tracker | Trades | Transactions
ARLINGTON, Va. -- This week in the shadow of the nation's capital just across the river, the best players that USA Hockey has to offer have gathered for Olympic Orientation Camp. No, the players aren't getting on the ice, at least to work together and run any drills, but there are a lot of ways to maximize the allotment of time these 48 players and the staff have.
As you might imagine with so many players from teams all across the league, part of the process if a feeling out of each other, getting to know the guys you might be playing with in Sochi. Some of them are old friends, competitors together in that memorable if not painful run to the silver medal in 2010 back in Vancouver when Sidney Crosby's golden goal ended the fun for the US team. But they're not all familiar faces, especially with the influx of young talent invited to the camp, the players that have successfully led the US at the junior levels in recent years.
However it's hardly all about merely saying hi to guys from across the league. Also this week amidst the meetings and the pleasantries is the message being delivered as to what they're playing for: gold.
"We're not going into Sochi as an underdog, we expect to win," USA Hockey and Nashville Predators GM David Poile said. It doesn't get much clearer than that.
To help reinforce what everybody around USA Hockey thinks this team can be capable of, some of the USA greats have been around speaking to the team. Bill Guerin has already given two speeches to the team, letting the players know that they are indeed capable of being the best there's ever been in the States.
"[Guerin] gave two speeches so far and they've been pretty moving so far," Patrick Kane said. "When he's talking, everyone's focused and listening.
"People have said they feel this is maybe the most talented team put together in US history. You hear that stuff and it's something you want to make true and make believable and live up to those expectations."
Before the 2010 Games, in which the US came oh so close to winning its first gold medal since the Miracle On Ice in 1980, the US was largely dismissed.
That team was seen as a transition squad, if you will, for USA Hockey, a team that wasn't good enough to compete with Russia, the Swedes or Finns, and especially the Super Canadians for the ultimate prize. It was a learning experience as much as anything else. But that's why they played the games.
"They did a good job of playing us up as underdogs that tournament and that's the way everyone kinda viewed us," Kane said. "I think we were ranked fifth or sixth, so the only people who thought we had a chance were the guys in our locker room and that are involved with USA Hockey. This time, it's a little bit different, there's a little more expectation especially after what happened in 2010 which is good, you want those expectations. Hopefully we can live up to them."
"Any time you put that sweater on the expectation is to win but it's a different monster over there," Bobby Ryan added. "You're playing in a foreign country, foreign ice to what we play on."
While it's not as if the USA has always been a pushover in hockey, it was never seen as a consistent threat at the international level. From time to time, they would compete for a medal whether it be the Olympics or the World Championships, but this expectation now of always being in contention? That's new and it's just fine to this current group of American hockey stars.
"It just goes to show a lot about USA Hockey and how far it's come over the years, where you're expected to go to these big events and not only compete but to bring home the gold medal," forward James van Riemsdyk said. "Obviously that's the goal at the end of the day, to bring home that gold medal."
Before they can begin working toward that goal as a team and staff, they must first know who will be headed to Russia in February. Fact is, nearly half of the 48 players here at the Washington Capitals' practice facility will be blessed with the honor of representing USA at the Olympic Games. Consider that some players are mortal locks such as Kane or Zach Parise, there are others who will be fighting for a precious few spots.
How then are coach Dan Bylsma, Poile and the rest of the staff supposed to evaluate these guys properly if they aren't even going to skate on the ice because of insurance demands? It's kind of a situation of what you see is what you get, but more important, what you will see.
"I think there are certainly a couple of aspects that are unique to this selection process," Bylsma said. "There has to be a body of work that you look at when evaluating players. There's no trial, there's no on-the-ice time here, there is a body of work from each player here. Having said that, the next three, four months is the key time to establish that. How you're playing for the 3-4 months will be important."
As if players didn't have enough to worry about when the NHL season begins, that will just add another dimension. At least for those willing to admit it.
"I think it crosses your mind, I think it crosses your mind more when you're watching at box scores; you see 'Kaner had another four points,' " Ryan said of the thought process before the 2010 Olympics. "That's what I thought about in 2009. It doesn't matter when you're playing, you've got to have other things on your mind, but I'd be lying if I said I wasn't thinking about in 2009 and 2010."
"You have a job to go do with your team, but it will always be there, knowing that if you have a bad game, you have to turn it around quickly," Jets defenseman Dustin Byfuglien added. "You have to make every chance count and that's going to be a big factor, but you have to worry about your team first."
When the time comes and the team is set, there won't be much time for them to come together, a situation where they will likely get only one practice before the games begin. That's why this week matters -- a chance for players to either reacquaint themselves with each other or get newly acquainted with guys they might be going for the gold beside in Russia.
Because make no mistake about it, that's what they're going for, and none of them is ready to feel the disappointment of winning silver again.
"That will never leave. A lot of guys are returning and we all know that feeling," Ryan Kesler said. "Our goal is to win gold. That's what we're going there for."
Show Comments
Hide Comments
Our Latest Stories
On day he signs entry-level deal with Canucks, Boeser scores Vancouver's third goal in 4-2...

The Penguins' leader in highlight reels has been extra feisty on some cringe-worthy cheap shots...

2017 SAHP NHL Global Series will pit Ottawa and Colorado against each other in Stockholm
Finland has churned out some winners in a league filled to the brim with diverse players

From the Caps' goaltender to the star-studded headlining duo of Chicago's offense, these guys...

Scoring his 41st goal of the year in a 3-1 win over the Buffalo Sabres, the Pittsburgh Penguins...