VIDEO: Bench-clearing brawl at end of Canadian junior league game
A bench clearing brawl broke out following a Canadian junior league playoff game.
More NHL: Scores | Standings | Odds | Fight-O-Meter | League Leaders | Rumors
Blainville-Boisbriand defeated Baie-Comeau, 4-3, during a Quebec Major Junior Hockey League game on Wednesday night, and then all hell broke loose on the ice after the final horn sounded.
Both teams (not just lines or individual players, but the entire teams) were involved in a bench-clearing brawl as fans then fans started throwing garbage on the ice. The goalies were even fighting off in the distance.
Wow.
What does the penalty situation for something like that look like? Like this...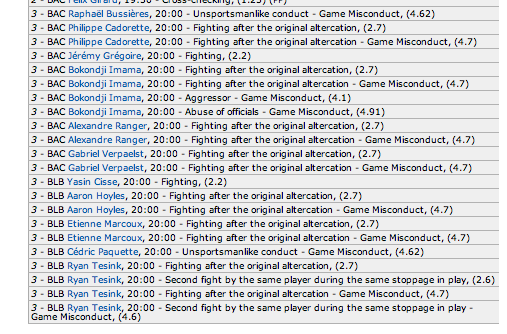 (S/T Josh Deitell, via Elliotte Friedman)
Show Comments
Hide Comments
Lucic signs with Oilers, Okposo goes to Buffalo, Bruins land Backes

The NHL commissioner continued to deny a causal link between concussions and CTE

The 2015-16 season was interesting in a lot of ways. We look back at the Final NHL Power R...
Chicago will make the Harvard standout's shortlist, per his agent

The NHL's partnership with MLBAM has produced another unique opportunity

Connor McDavid, P.K. Subban and Auston Matthews among players you won't see a whole lot