VIDEO: John Kerry gets case of Molson for U.S. women's victory
By virtue of the USA women winning the world championship over Canada in Ottawa this week, John Kerry received a case of Molson. Cheers!
More NHL: Scores | Standings | Odds | Fight-O-Meter | League Leaders | Rumors
Earlier this week, Amanda Kessel led the United States women's team to a world championship in Ottawa. As is typical in the women's game, the U.S. met Canada in the final and triumphed over its rivals on Canadian soil with a 3-2 win.
Like any good politicians would do, U.S. Secretary of State John Kerry -- a Massachusetts man who is fond of the Bruins and hockey -- and Canadian Foreign Minister John Baird had a gentleman's bet on the game. Since Kerry was on the winning side (Go USA!), he was the recipient of a case of Molson.
See, now that's a hockey bet with a Canadian, isn't it? Nothing would be a better payout for a hockey debt than a case of Molson. And to Baird's credit, he paid up. If you ask me, this is how all international conflicts should be handled. Just give them some beer.
If Canada had won, then Kerry would have, of course, given Baird a case of Sam Adams.
Kerry was sure to note that he wasn't going to drink the beer now, that there is work to be done at the moment. Afterward, though, he's going to enjoy that beer and I hope it looks something like this: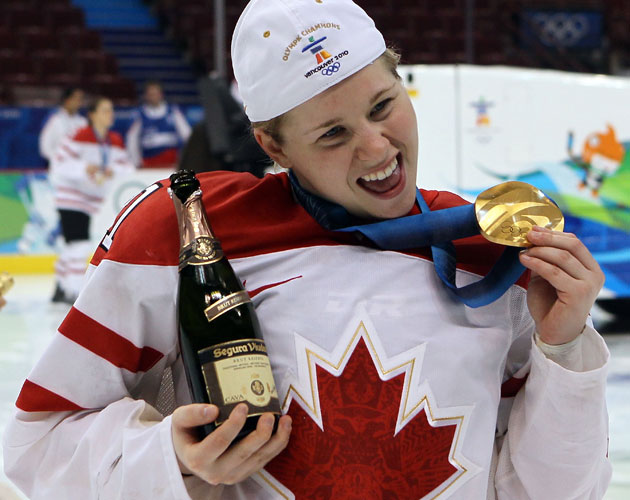 Show Comments
Hide Comments
Series schedules, results and updates from the second round of the Stanley Cup race

Subban had three points in Nashville's 4-3 win over St. Louis in Game 1, while Edmonton dropped...

Washington and Pittsburgh figure to go neck and neck, as do Anaheim and Edmonton
Cassidy went 18-8-1 after replacing Claude Julien in 2016-17

With the playoff field cut in half, the stakes keep getting raised

Green has led Vancouver's AHL affiliate since 2013