VIDEO: Marcus Foligno does his best Bobby Orr imitation
Sabres forward Marcus Foligno won't be compared to Bobby Orr often but he has to be after his Tuesday night goal.
More NHL offseason: Rumors | Top 50 Free Agents | Buyout Tracker | Trades | Transactions
Buffalo Sabres forward Marcus Foligno isn't going to be confused with Bobby Orr very often, but you can't help but make the "leap" after seeing his goal on Tuesday night.
OK, so it was just a preseason exhibition instead of a Stanley Cup-deciding game, but Foligno pulled an Orr on Tuesday. As in the goal Foligno scored looked A LOT like Orr's iconic goal that won the Bruins the Stanley Cup in 1970 and has since been immortalized in the form of a statue.
Just in case you need a refresher, here's Orr's famous goal.
The similarity is almost uncanny. Plus, Foligno's re-enactment provided for a pretty awesome photo.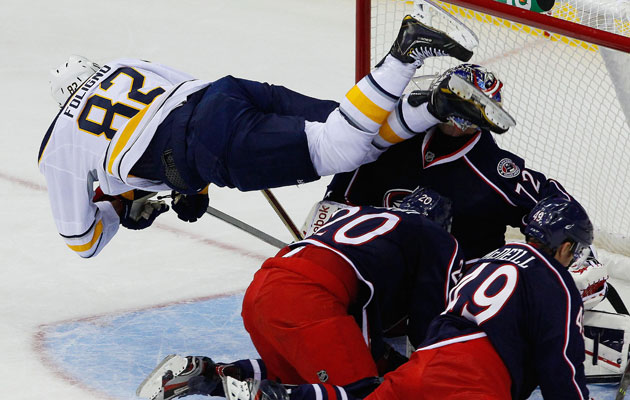 Show Comments
Hide Comments
Our Latest Stories
2017 SAHP NHL Global Series will pit Ottawa and Colorado against each other in Stockholm

Finland has churned out some winners in a league filled to the brim with diverse players

From the Caps' goaltender to the star-studded headlining duo of Chicago's offense, these guys...
Scoring his 41st goal of the year in a 3-1 win over the Buffalo Sabres, the Pittsburgh Penguins...

A nightmare comes to life with Gary Bettman downplaying the idea of sending NHL stars to South...

The resurgent Lightning are primed to sneak into contention, while the once-hot Islanders are...