Ville Leino has cracked rib, out indefinitely for Sabres
Ville Leino's rough time in Buffalo continues. The forward has a cracked rib and is out indefinitely just one game into the season.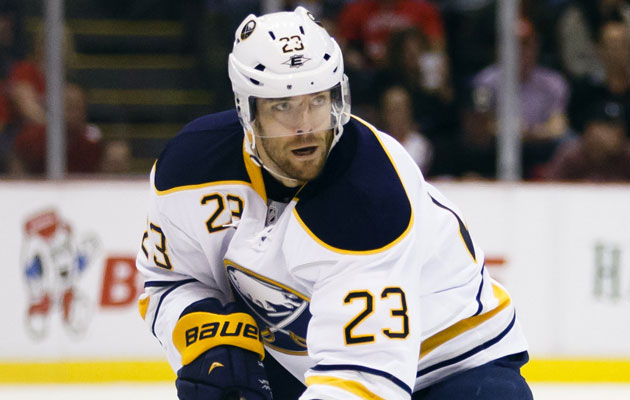 NHL previews: Atlantic Division | Metropolitan Division | Central Division | Pacific Division
Not much has gone right for Ville Leino since he signed a six-year contract with the Buffalo Sabres. The latest thing to go south? Leino is out indefinitely with a cracked rib.
Leino was missing from the Sabres' practice on Thursday morning, a day after Buffalo began the season with a 2-1 loss in Detroit. Later, coach Ron Rolston made the announcement on Leino's diagnosis.
That's not something you come back from right away either. Cracked ribs can take a while to heal and even when they do, the pain stemming from the injury can linger for a long time. So Leino could be off the ice for a while.
Since Leino had a breakout campaign with the Flyers when he posted 19 goals and 34 assists in 2010-11 to go with two strong postseasons, he signed a six-year $27 million deal with the Sabres. It came under heavy criticism right away as Leino fell back and had just eight goals, 17 assists in 71 games in his first season with the Sabres. It got worse last season as he only was able to appear in eight games. Now his third season is going to be cut short again.
In the opening-night loss Leino saw 12:38 of ice time and didn't make his way onto the box score.
Show Comments
Hide Comments
Washington and Pittsburgh figure to go neck and neck, as do Anaheim and Edmonton

Cassidy went 18-8-1 after replacing Claude Julien in 2016-17

With the playoff field cut in half, the stakes keep getting raised
Green has led Vancouver's AHL affiliate since 2013

Series schedules, results and updates from the second round of the Stanley Cup race

Here's how to stay on top of all of the NHL's second-round playoff series, which begin Wed...