Voting for 'NHL 14' video game cover begins, so too have campaigns
Claude Giroux was on the cover of EA Sports' last NHL installment. Voting is up to fans again this year and it could be ... Brandon Yip?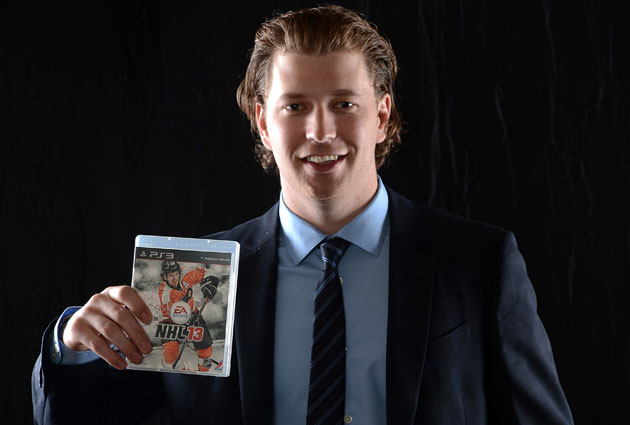 More NHL: Scores | Standings | Odds | Fight-O-Meter | League Leaders | Rumors
For the first time last year, EA Sports decided to turn the cover athlete selection for their annual NHL game over to the fans. It was a pretty big success as it helped drum up interest in the game and led to some fun moments such as Scott Hartnell campaigning with cats.
It was so good that EA Sports is doing it again, letting the fans decide which player will grace the cover. The voting officially began on Monday with 60 players, two players from each team. There will be 30 winners from there and then two wild cards, the two players who earned the most votes in a losing effort. They will then be put in a 32-player bracket and a winner will eventually be crowned.
Last season that winner was Claude Giroux of the Flyers, who beat out Pekka Rinne from the Predators and graced the cover of NHL 13. It was a star-studded field, really, every team turning in two strong candidates.
I don't know if we can say the same this time -- a few teams already used up their star power.
The Anaheim Ducks , who have a few stars on the team, are trotting out Andrew Cogliano and Matt Beleskey . The Calgary Flames have Dennis Wideman and Lee Stempniak representing (though I'm not sure who else they could offer up that would be better). The Tampa Bay Lightning have Teddy Purcell doing battle with Victor Hedman -- though to be fair, Steven Stamkos was on the cover two years ago.
Then you have the Nashville Predators , who are represented by Mike Fisher and Brandon Yip . Yup, Yip. Already a bit of a grass-roots Vote for Rory campaign has begun for Yip to be on the cover because, well, he's a forward with three goals and five assists in 34 games this season and it would be kind of funny.
Although my personal favorite team representatives come from Buffalo with Ryan Miller and Thomas Vanek . Not that either guy would be a bad choice individually -- though Miller would be questionable -- but it's the fact that neither guy might be with the Buffalo Sabres by the start of the next season, or certainly by the end of next season. I suppose that could happen with just about anybody who made the cover, but it seems actually realistic in the case of these two.
You can start voting now through Sunday the 28th for the premilinary round. But before you vote, EA Sports wants you to know that the cover is no jinx in hockey.
"Players who have graced the EA SPORTS NHL cover in the past have historically had banner years in the season that followed," said Dean Richards, General Manager, EA SPORTS NHL. " Patrick Kane scored the Stanley Cup winning goal in 2010, Steven Stamkos notched a league-leading 60 goals in 2012 and Claude Giroux becoming the Captain of the Philadelphia Flyers this season. We're looking forward to see which fans step up to get their player on the cover of NHL 14."
We'll ignore that it's been a mostly disappointing season for Giroux and Philly this season, captain nomination aside.
Expect to see guys having some fun with the vote, perhaps at the prodding of their teams. We saw campaign videos last year -- there were more than just Hartnell like this one or this one -- and they have already begun this year.
Ladies and gentlemen, your Florida Panthers reps!
Oh yeah, this should be fun.
Of course, we all know that the winner will likely come from one of the traditional power cities because they have the fan support to win popularity contests. Sorry to Kris Versteeg and the rigid yet professional Brian Campbell, but they don't stand a chance. Let's just crown Pavel Datsyuk now.
Show Comments
Hide Comments
Series schedules, results and updates from the second round of the Stanley Cup race

Subban had three points in Nashville's 4-3 win over St. Louis in Game 1, while Edmonton dropped...

Washington and Pittsburgh figure to go neck and neck, as do Anaheim and Edmonton
Cassidy went 18-8-1 after replacing Claude Julien in 2016-17

With the playoff field cut in half, the stakes keep getting raised

Green has led Vancouver's AHL affiliate since 2013