Wade Redden announces retirement after 14 seasons in NHL
Former NHL defenseman Wade Redden officially retired from the NHL on Thursday after 14 seasons with the Senators, Rangers, Blues and Bruins.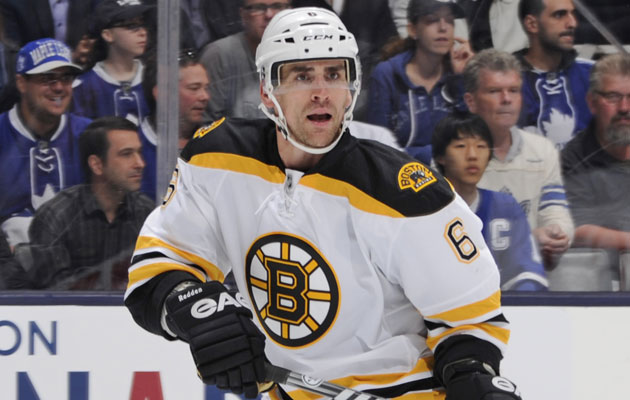 More NHL: Scores | Standings | League Leaders | Odds | Injuries | Power Rankings
After failing to find a position in the NHL after ending last season with the Boston Bruins, veteran defenseman Wade Redden announced his retirement on Thursday.
"I would first and foremost like to thank my family and friends for their unconditional love and support. I would also like to thank my teammates, coaches and staff for all the great memories created throughout the years. To the fans, I appreciate all your support throughout my career," Redden said in the NHLPA release. "Playing in the National Hockey League has been a dream come true and I feel very proud and privileged to have played more than 1,000 games in 14 NHL seasons."
Near the end of his career Redden became somewhat of a lightning rod, burdened by a heavy contract with the Rangers and sent down to the AHL. Eventually the Rangers used a compliance buyout and he signed with the Blues before being traded to the Bruins last season.
But it wasn't always so rough for Redden, who was an All-Star with the Senators. Drafted second overall by the Islanders in 1995, Redden was traded to the Senators in 1996 when he began his NHL career. His best seasons came in the early 2000s, highlighted by his 2002 All-Star Game appearance.
After the 2007-08 season he signed a contract with the Rangers but he had just 26 points in 81 games in his first season for New York, well below his previous point totals. That dipped again in 2009-10 before he was buried in the AHL for the Rangers to avoid his cap hit.
Last season with the Blues he played in 23 games with two goals and three assists before being dealt to the Bruins. He suited up for five games during the Bruins' playoff run, scoring a goal and one assist. In total he played 1,023 games in his NHL career with 109 goals and 348 assists.
Redden also represented Canada internationally several times including being a part of the 2006 squad in Torino.
Show Comments
Hide Comments
Edmonton gets forward Ryan Strome in return for their seven-year veteran

If Wednesday's festivities were good for anyone, they were good for the Vegas Golden Knigh...

T-Mobile Arena goes wild as it celebrates the unveiling of the Golden Knights' first full...
The Oilers center takes home the biggest prize of the night after a 100-point season

Sergei Bobrovsky claims the top goalie honor for the second time since 2013

Toronto's 19-year-old scoring phenom wins the NHL's rookie MVP honors