Was Peter Laviolette really given a chance with Flyers this season?
In announcing the firing of coach Peter Laviolette, GM Paul Holmgren said they gave Laviolette a chance to get back on track after last season. But did they really?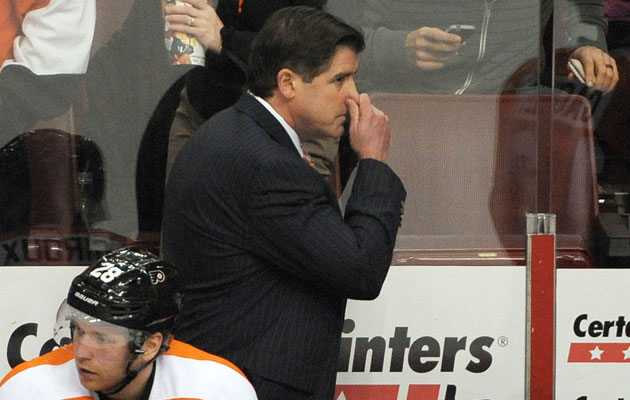 NHL previews: Atlantic Division | Metropolitan Division | Central Division | Pacific Division
The next time somebody tries to tell you that the preseason doesn't matter, go ahead and ask Peter Laviolette.
The now former Flyers coach was fired by the team on Monday morning after only three games to start the season. It's as fast of a firing as you'll see, even in the fire-happy NHL. It's almost crazy to think the Flyers allowed it to get the point that a coach could conceivably be fired just three games in.
If you'll recall after last season, one which ended in no playoff appearance, Laviolette was on the hot seat. GM Paul Holmgren was asked then if they were considering a new coach but he said no. He maintained that approach on Monday in announcing Laviolette's firing, saying only that he had a fleeting notion to change direction at coach. Eventually, though, it was his belief that Laviolette deserved another chance in a season that wasn't 48 games long.
That chance didn't last long at all, not much of a chance really to show last season was a fluke. It was such a short chance that you wonder if it was genuine at all. Three games are not enough to make a good judgment one bit.
Thing is, it wasn't just three games this season. The Flyers brass was not pleased with the preseason either when the Flyers went just 1-5-1, being outscored 16 to 25 in seven games.
"Quite frankly, I was disappointed in the preseason we had," owner Ed Snider said, adding it was the worst camp he's seen in 40 years.
"Right from Day 1 at training camp, I was concerned about how the team looked," Holmgren added. "It was unacceptable. We don't look like a team at all."
So while he only had three regular-season games, the Flyers were viewing this season as longer than just one week. The past was background on a decision but the five weeks of this season, not one, were the deciding factor.
Still, it's awfully quick, like an NFL team firing its coach after halftime in Week 1 quick. Even Maple Leafs coach Randy Carlyle thought it was fast.
Carlyle on Laviolette: "I'm surprised that it happened to him. I'm surprised that it happened so quickly." Calls it absurd.

— James Mirtle (@mirtle) October 7, 2013
Bad preseason or not, there was a foundation here beyond more than just the preseason and that undoubtedly went into the decision too, more than Holmgren led on in the press conference.. Any coach being given a genuine opportunity to prove himself gets more than one week into the regular season, thus begging the question why the Flyers didn't decide to do this sooner, as in the offseason. Nothing against Craig Berube, he could be a great coach, but there would have been better options on the market had they made a move then, guys with a track record.
Hindsight is 20/20 of course, we all know that, but the fact that the Flyers were in the position at all where they could consider making a move this quickly should have raised a lot of questions internally. If you decide you're going to give him a shot then give him a shot. If not then don't. Getting a half-shot like Laviolette received is not ideal in either direction.
Time is of the essence so in that regard you can understand why Holmgren would make a move. Especially in a competitive division, they can't afford to fall back too far before Thanksgiving. But not even getting to Halloween makes the idea of an opportunity to rebound seem like a trick.
By acting now the Flyers are doing their best to save the ship before it sinks but if there are even fleeting thoughts before the season you don't have the right skipper, then perhaps you shouldn't let him led the fleet out to sea.
Show Comments
Hide Comments
Series schedules, results and updates from the second round of the Stanley Cup race

New Jersey claims No. 1 draft pick after having an 8.5 percent chance of earning the top s...

Ottawa takes a 2-0 lead over New York, and Pittsburgh does the same against Washington
St. Louis connected on one of five power plays to tie the series while Anaheim loses again...

Ottawa's defense came up big in Game 1 to beat New York, and the Penguins beat the Capitals...

Subban had three points in Nashville's 4-3 win over St. Louis in Game 1, while Edmonton dropped...