WATCH: Ben Bishop's glove fails him again, Tampa goalie pulled in Game 4
Ben Bishop was not able to repeat his Game 3 performance for the Tampa Bay Lightning on Thursday night.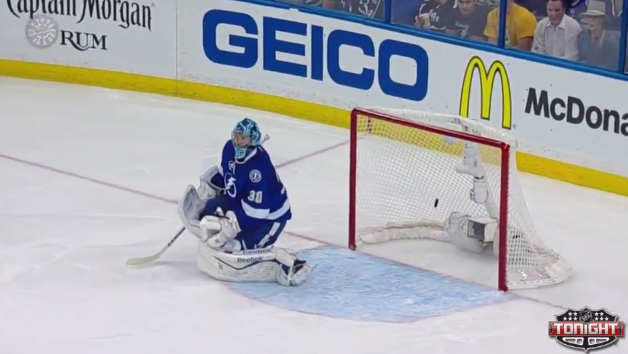 Ben Bishop was arguably Tampa Bay's best player during their Game 3 win on Wednesday night.
He did not repeat that performance in Game 4. 
Bishop was pulled early in the second period on Thursday night after giving up three goals on 14 shots in just 25 minutes hockey. The third goal, which ultimately led to him being replaced by 20-year-old backup Andrei Vasilevskiy, came on a slap shot from Montreal's David Desharnais that simply overpowered him, going right through his glove. 
If you've been watching this entire series, that goal should look familiar to you because he gave up a nearly identical goal in Game 1 to Montreal's Max Pacioretty.
Bishop has taken the Lightning on a wild ride this postseason, giving up some truly awful goals at times, and then looking unbeatable at other times.  
Unfortunately for the Lightning ghanging goalies did not help them on Thursday as Vasilevskiy allowed two goals on the first three shots he faced, with both goals coming just 15 seconds apart. 
Show Comments
Hide Comments
Pens open season on Oct. 4, while the Golden Knights begin play Oct. 6 on the road

With the NHL trade market heating up, the Blackhawks shed one scorer for another

Edmonton gets forward Ryan Strome in return for their seven-year veteran
If Wednesday's festivities were good for anyone, they were good for the Vegas Golden Knigh...

T-Mobile Arena goes wild as it celebrates the unveiling of the Golden Knights' first full...

The Oilers center takes home the biggest prize of the night after a 100-point season