WATCH: Canucks, Flames game starts with fight off opening face-off
The Vancouver Canucks and Calgary Flames needed only two seconds before they started fighting with each other on Wednesday night.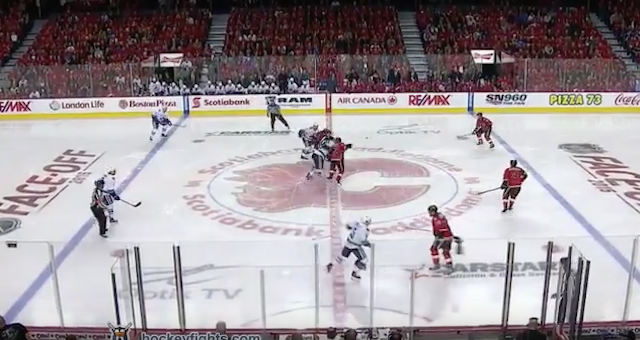 Given some of their games in recent years it's not hard to see that the Vancouver Canucks and Calgary Flames don't really like each other very much.
It took them two seconds to remind everybody of that fact on Wednesday night.
That is when Vancouver's Derek Dorsett and Calgary's Micheal Ferland dropped the gloves right off of the opening faceoff, taking part in a spirited bout just two seconds into the season.
Two. Seconds. 
That is pretty much the only reason Derek Dorsett and Micheal Ferland start the first shift of the season, and the two made no secret about what their plans were even before the puck hit the ice. 
These two teams played an extremely physical postseason series a year ago (one that featured this line brawl) and were involved a huge fight off of an opening faceoff two years ago that resulted in then-Canucks coach John Tortorella attempting to storm the Flames' locker room after the first period. 
Just eight minutes after the Dorsett-Ferland bout, Brandon Bollig and Brandon Prust took part in their own fight on Wednesday night.
Show Comments
Hide Comments
Out for the remainder of the postseason, Johansen is still part of the Predators' playoff...

Series schedules, results and updates from the Eastern and Western conference finals

Nashville refuses to back down despite taking fewer than 20 shots against fill-in goalie Jonathan...
Anaheim will be without two key forwards and possibly its No. 1 goalie in Nashville on Mon...

Pittsburgh makes a fool of Ottawa's top-line defense with four goals in the first period a...

"Hank" then gets tackled by teammate William Nylander in a celebration for Team Sweden