WATCH: Jaromir Jagr ties Howe for third all-time with 1,850 points
Jaromir Jagr has tied Gordie Howe for third all-time on the NHL's points list. His secondary assist on Erik Gudbranson's goal gave Jagr 1,850 career points.
The ageless wonder that is Jaromir Jagr has been barreling toward a major historic milestone all season and Thursday night against the Colorado Avalanche, he matched it.
With a secondary assist on Erik Gudbranson's goal in the first period, the 44-year-old Jagr notched the 1,850th point of his career. Jagr tied "Mr. Hockey" Gordie Howe for third on the NHL's all-time scoring list.
Here's a look at the history-matching play:
1. Wayne Gretzky - 2,857
2. Mark Messier - 1,887
3. Jaromir Jagr - 1,850
3. Gordie Howe - 1,850https://t.co/aDjUFZBRT2

— NHL (@NHL) March 4, 2016
Jagr has been an absolute tear this season. He already has more points than anyone has ever achieved at his age or older with 48. That was also Jagr's 11th point in his past 10 games as he continues to pace the Atlantic Division-leading Panthers in points.
His legacy was set years ago, but with what he has done at 44 years old, Jagr has added an entirely new chapter to his NHL story. He has won five Art Ross Trophies, one Hart Trophy and three Ted Lindsay Awards (MVP as selected by the players), went to 10 All-Star Games, was a 10-time selection to the league's end-of-season All-Star team and won two Stanley Cup titles. However, what he is doing right now is one of the most remarkable feats of his career.
Through his meticulous care for his health (even amid some odd habits), and his complete and utter dedication to the game of hockey, Jagr has defied what most would assume a man of his age could do at the highest levels. We haven't seen anything like Jagr since Howe, who played his last NHL game at age 52.
Most players decline in their later 30s if they're lucky. Most will leave their scoring prime by the time they turn 26. Jaromir Jagr is out of his prime and isn't the greatest player in the league like he was at various points in his career, but you would be hard-pressed to find one more awe-inspiring at this point.
Not only that, but his arrival to the Florida Panthers in a trade last season has been transformative both for the Panthers and apparently for Jagr himself. After No. 68 returned to the NHL after a three-year stint in the KHL, Jagr has still been fairly productive, but this season, he's leading one of the league's better teams to heights no one could have predicted for them.
Jagr is also having an overwhelmingly positive impact on the young players this organization is going to rely on for years to come. In fact, Aleksander Barkov picked up the primary assist on Gudbranson's goal, giving him 100 points over his young career. He has a long way to go to catch his mentor, but how much better off will he be in his career for having played alongside a Hall of Famer?
Now with each point Jagr achieves, he'll be on another historic march to the next milestone. He is still 37 points away from Mark Messier for second all-time, but if Jagr decides to return next season -- and there's no reason not to at this point -- he is very likely going to pass Messier with ease. Wayne Gretzky holds the record with 2,857 points, so I don't think Jagr has another 1,000-plus in him, but he certainly doesn't need to catch the Great One to be one of the greats.
Jaromir Jagr will forever be remembered as a player that capitivated hockey fans over the entirety of his career with performances we'll never forget.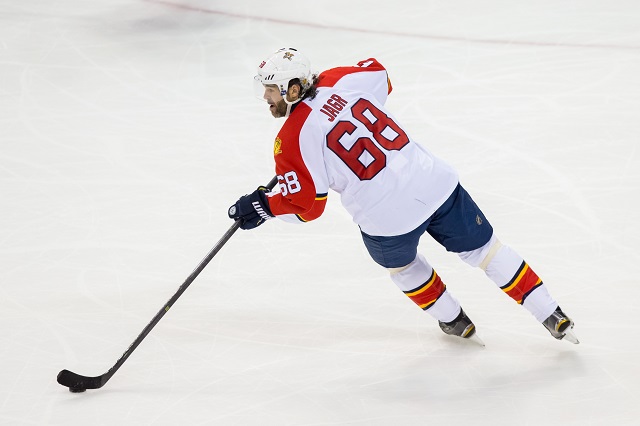 Show Comments
Hide Comments
Our Latest Stories
It's Sid vs. Ovi on the world stage

USA goes winless for the first time ever at a best-on-best tournament

The World Cup semifinals are set: Canada vs. Russia and Sweden vs. Team Europe
It's hard to narrow down to just five reasons why the above statement is true

Rielly was just a little excited for his teammate's game-winner

Canada awaits its semifinal opponent, while Europe will take on Sweden in the next round