WATCH: Max Pacioretty ties game after Ben Bishop's glove fails him
Ben Bishop looked like he was on his way to another shut out. And then this happened.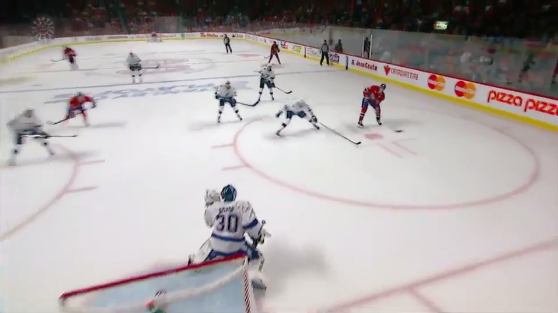 Tampa Bay Lightning goalie Ben Bishop was outstanding for the first 55 minutes of Game 1 against the Montreal Canadiens on Friday night.
He made big save after big save to keep the Canadiens off the board and looked to be on his way to recording his second consecutive shutout.
And then this happened on a Max Pacioretty shot with just 5:15 to play in regulation, ultimately sending the game to overtime. 
Pacioretty fires the puck past Bishop and we're going to #NHLOT. #MTLvsTBL #StanleyCup https://t.co/G1DMCcgfrF

— NHL (@NHL) May 2, 2015
Oh. No.
Bishop obviously thought he had the puck secured in his glove only to turn around and see it slowly trickle across the goal line for the game-tying goal. What's worst of all is that not only did Pacioretty shot rip right through his glove, but it's entirely possible that the shot might have gone wide of the net if Bishop didn't touch it at all. 
The game ended up going to overtime with only two goals in regulation: A deflection goal by Tampa Bay's Tyler Johnson, his seventh of the playoffs, and a shot that trickled across the goal line off of a goalies glove. 
Show Comments
Hide Comments
Out for the remainder of the postseason, Johansen is still part of the Predators' playoff...

Series schedules, results and updates from the Eastern and Western conference finals

Nashville refuses to back down despite taking fewer than 20 shots against fill-in goalie Jonathan...
Anaheim will be without two key forwards and possibly its No. 1 goalie in Nashville on Mon...

Pittsburgh makes a fool of Ottawa's top-line defense with four goals in the first period a...

"Hank" then gets tackled by teammate William Nylander in a celebration for Team Sweden