Wayne Gretzky trade: From the perspective of Martin Gelinas
Martin Gelinas went on to have a fine career in the NHL but it began in a big way; by being part of the Wayne Gretzky trade.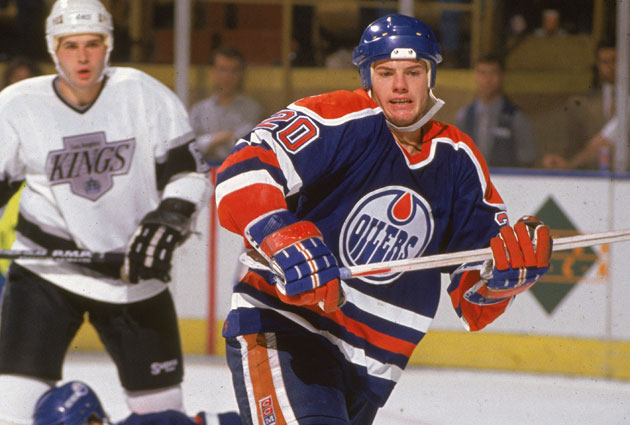 More NHL offseason: Rumors | Top 50 Free Agents | Buyout Tracker | Trades | Transactions
Imagine being an 18-year-old kid, just drafted out of the Canadian junior ranks by an NHL team down in the States. Imagine that before you have ever stepped onto the ice with this new team you have been traded.
Really, this story is common for a lot of players. Prospects get traded all the time, it comes with the territory. But Martin Gelinas is different. Why? Because he was traded for Wayne Gretzky. As in The Great One. Players like Wayne Gretzky don't come around often (that's an understatement) and trades like that never happened. It's why the expression "If Wayne Gretzky could be traded then anybody can be" exists today. It was that unbelievable and shocking.
Of course there were other pieces involved in the earth-moving trade that went down 25 years ago Friday. The big name leaving the Kings wasn't Gelinas but Jimmy Carson. There were also three first-round draft picks going to Edmonton with $15 million for struggling Oilers owner Peter Pocklington, who in the trade's aftermath felt the wrath not only of Edmonton but all of Canada.
What happened with Gretzky has been covered from all angles. For instance, if you want a good read on how the actual trade went down from Los Angeles' perspective, read this. Even Carson, who struggled with the trade and lasted barely more than a season in Edmonton, has been talked about a lot. But sometimes Gelinas is forgotten.
The three draft picks that went to Edmonton in the deal all turned out to be either traded away quickly (to New Jersey) or straight misses (Martin Rucinsky, Nick Stajduhar). As mentioned, Carson didn't last long in Edmonton, though he was superb in his time there on the ice. So really Gelinas, with only his five seasons in Edmonton, was the last on-ice reminder of the trade for the Oilers. He maxed out in Edmonton with 20 goals and 20 assists in 1990-91 but later went on to bigger and better days elsewhere.
Today Gelinas is an assistant coach for the Calgary Flames, enjoying his summer vacation when CBSSports.com caught up with him to discuss the big deal that was indeed a big deal.
CBSSports.com: What was it like for you being so young and all of a sudden finding out that you had been traded for Wayne Gretzky?
Gelinas: "It was a shock to me but I was so young then that I didn't quite realize it. You gotta remember, I had just gotten drafted that year in June to the NHL by a team in LA where I thought I was going to make the team right away so that was exciting.
"Then out of nowhere when I was working at a hockey school back in Shawinigan, someone said 'You got traded for Wayne Gretzky.' Trades like that didn't happen back then so I just kinda laughed and moved on. A second person came, third person came and then I finally realized, 'Yeah, I got traded!'
"When they first came to me and said you got traded for Wayne Gretzky and then when you finally realize there was a lot more than just a player. There were a lot of parts involved and some money. Back then $15 million was quite a bit of money so it was really a blockbuster deal and really unexpected from my standpoint."
CBSSports.com: It had to be a nice boost of your confidence to hear that the Oilers were taking you in return for Wayne Gretzky though, huh?
Gelinas: "Yeah, you know at first I didn't believe it and I just thought people were pulling my leg and joking with me. Eventually I realized it, so the deal was done and I was going to Edmonton where as you know people there were not too thrilled and happy about the trade because their franchise player, their legend, a guy that really gave them a chance to win four Stanley Cups prior, was gone."
CBSSports.com: When you got to Edmonton, what did you personally feel as far as pressure? Was it really hard to come into that situation?
Gelinas: "You know it was tough, but not as tough as it was on Jimmy Carson. The reality is the pressure was really on him. He had scored 50 goals in LA the year before and the pressure was really on him. I was just a kid, just 18 years old from juniors. You see it now with kids you just don't know what to expect. They stayed patient. Sure there were some expectations but I was so young I didn't quite realize what that meant. The pressure was really on Jimmy."
CBSSports.com: What kind of problems did he have with it? His numbers were good in his short time with Edmonton. Was it just an emotional strain?
Gelinas: "I'm sure it was an emotional strain but the reality is nobody is Wayne Gretzky and nobody can do what Wayne Gretzky did. But when you're part of that trade it doesn't matter how many players that come in that trade, there are some expectations. You can never replace what they lost in Gretzky."
CBSSports.com: Do you ever wonder what your career would have been like if you hadn't been traded for Gretzky?
Gelinas: "Not really, I just looked forward. I'm grateful it happened, I'm grateful that every year people want to talk about it. Every August I get phone calls from reporters who want to know what happened. Year after year I'm trying to make this more interesting but it is what it is; I worked at a hockey school and got traded! I never look back on what could have been, I was just grateful that in a small part I was part of Wayne Gretzky's career."
CBSSports.com: Did you feel you learned anything at the time from that trade?
Gelinas: "You learn to deal with the pressure pretty quickly because you're moving into a market with expectations and pressure. So I learned at a young age. But I was pretty lucky, I got to a team where there were a lot of great players, great leaders that I had a chance to learn from. I look back and think it was a blessing. I won a Stanley Cup, learned from Mark Messier, Craig MacTavish, Kevin Lowe, the list goes on and on ... Craig Simpson, [Jari] Kurri, [Esa] Tikkanen, [Glenn] Anderson. What a great place to learn."
CBSSports.com: You obviously had a very good career in your own right so it's not as if you are a foot note in that trade, it's just an interesting part of your career. Is it kind of fun for you now to look back now that your career is done, is it just really cool to be part of a bar trivia question?
Gelinas: "Oh absolutely! The first few years you just say 'not again!' but as you get older you realize it was probably the biggest trade in sport history when it did happen. A legend was moving from one team to another which you didn't see happen back then. So to talk about it now and look back, I think it's special to be part of it."
Show Comments
Hide Comments
Series schedules, results and updates from the first round of the Stanley Cup race

Ottawa took a 3-2 decision to send Boston home, and Washington outlasted Toronto, 2-1

Stevens was L.A.'s interim coach for four games in the 2011-12 season
St. Louis, New York and Edmonton eked out victories that eliminated Minnesota, Montreal and...

Fresh off the Predators' sweep of the Blackhawks, Gnash is fired up for his team

A tougher opponent awaits either Toronto or Washington, and the Bruins hung on to beat Ott...