Where has the NHL's competitive balance gone this season?
In the salary cap era, there have never been more than three teams to finish with fewer than 70 points. There are six on pace for that this season. That's not the direction it's supposed to be moving.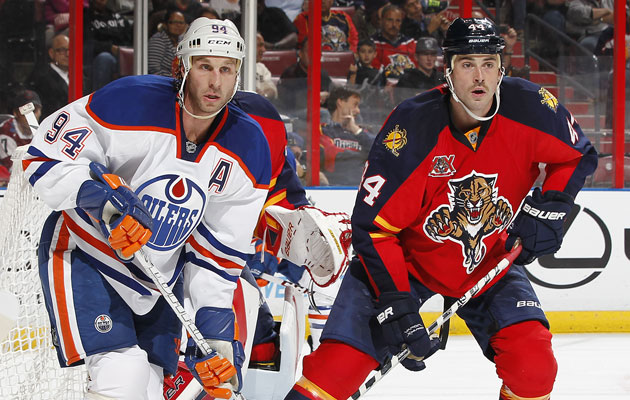 More NHL: Scores | Standings | League Leaders | Odds | Injuries | Power Rankings
As painful as it might be, let's go back a year in time and revisit the horrible, horrible lockout. There were myriad reasons for the lockout to happen but many of them you could say weren't good enough.
One overarching them that was pretty important to both sides was though; the idea of keeping all the teams competitive. The individual owners wanted it, especially in the small markets, because it helps them to compete on an even field. The NHL wants it because it ensures the profitability of the league as a whole and helps to improve the product and the bottom line. The players want it too because those guys in the smaller markets don't want to feel like they don't have a chance and the more teams that are better off, the more high-paying positions available.
Ensuring the profitability of all teams is/was paramount. It's why revenue sharing exists and partly why the league was so insistent on instituting a salary cap a decade ago. It's socialistic in nature but socialism works pretty well in sports, just ask the NFL.
That brings us back to the present, the first full season of action under the new CBA that was designed to make sure the playing field is indeed even. That's what makes it strange, then, that it seems there are more have-nots now than we've seen in a long while in the league.
Every year there is always that team that is horribly dreadful and is lucky to crack 60 points in a season. That team this season will undoubtedly be the Buffalo Sabres, who have had a miserable to start the season. Right now they are on pace for a 37-point season ... 37! The Panthers finished with the worst record in the league in the 48-game season of 2013 and they finished with 36.
Speaking of those Florida Panthers, they aren't looking much better than the Sabres so far. They just snapped a nine-game losing streak but they aren't on pace to crack 60 points either, on just a 52-point pace right now. And let's not forget the Edmonton Oilers with their whopping 41-point pace at the moment. That's three historically bad paces.
Indeed, the caveat still applies here that the season is early and all that but we're getting to the point where it's not that early anymore. This week essentially marks the quarter mark of the season. So while I wouldn't put money down on teams maintaining those abysmal point paces, they aren't going to turn around and become last season's Blackhawks either.
Thus far there are clearly a few more of those teams this season, which is pretty much the opposite of how it's supposed to work.
Excluding the 2013-shortened season as we must, let's take a look back at the last five full seasons and the bottom of the league.
Teams with less than 70 points in a season
Season
Team
Record
Points
2011-12
Columbus Blue Jackets
29-46-7
65
2010-11
Edmonton Oilers
25-45-12
62
2010-11
Colorado Avalanche
30-44-8
68
2009-10
Edmonton Oilers
27-47-8
62
2008-09
New York Islanders
26-47-9
61
2008-09
Tampa Bay Lightning
24-40-18
66
2008-09
Colorado Avalanche
32-45-5
69
There are a couple of trends here; the first is with their presence on this season's list too, the Oilers have really stunk for far too long now. Secondly, and more pertinent to this conversation, is that it's rare for teams to finish with fewer than 70 points in an 82-game season. In fact, as you can see it didn't happen at all in the 2007-08 season.
So with that included, there have been seven instances in the five prior full seasons of teams finishing below hockey's version of the poverty line. That's an average of 1.4 per season.
This season? Not only are the previously mentioned trio all on pace for fewer than 60 points (which hasn't been done since the Flyers went 22-48-12 in 2006-07), there are six teams across the league on paces below 70 points. The Blue Jackets (63), Flames (68) and Flyers (68) are each in this dubious group for the time being with the Islanders (73) not all that far above the line.
Now again, these are just paces from relatively small sample sizes, which are still prone to influence from bad streaks. The Flyers, for example, are playing much better hockey of late and are very likely not going to remain a team on a pace below 70 points. Still, let's give two of the six teams the benefit of playing above the line the rest of the way and that still leaves four teams that could finish with fewer than 70 (and Buffalo will likely struggle to crack 60). There has not been one season in the salary cap era where more than three teams finished below 70.
This season is shaping up to be the most disparate of any season in the cap era when it's supposed to be going the opposite direction. This should be a less common occurrence, not the other way around, at least that's one of the aims of the most recent CBA. Why? Well if the answer were all that clear it wouldn't be an issue.
It can't really be about the market itself because while Florida is oft-criticized, Edmonton and Buffalo are not. And at least in the case of Florida and Buffalo there is reason for it; they're both in rebuilding phases, the Sabres at the start of theirs. They're not supposed to be burning up the league. Of course they shouldn't be this bad either but poor seasons weren't unexpected.
The issue is why are there so many. While the small sample size is certainly a valid explanation, it shouldn't explain it all away. There are a few too many teams that have been overall too bad this season and that cuts down on the number of teams in the hunt. Then again, with the Eastern Conference being so much more inferior than the West, teams aren't falling out of the race (Nine of top 10 point totals in the NHL are from the West; no team in Metro, not even Pittsburgh, would make the playoffs in the West if they started today).
Or maybe it's just going to be a bad season and in the future the competitive balance the league loves to brag about so much will return from top to bottom. They better hope so considering it was such a major focus in the negotiations and it would be a shame if we lost half a season with the measures resolving nothing.
Show Comments
Hide Comments
Series schedules, results and updates from the second round of the Stanley Cup race

New Jersey claims No. 1 draft pick after having an 8.5 percent chance of earning the top s...

Ottawa takes a 2-0 lead over New York, and Pittsburgh does the same against Washington
St. Louis connected on one of five power plays to tie the series while Anaheim loses again...

Ottawa's defense came up big in Game 1 to beat New York, and the Penguins beat the Capitals...

Subban had three points in Nashville's 4-3 win over St. Louis in Game 1, while Edmonton dropped...