Will Jaromir Jagr play in 2013-14?
Jaromir Jagr can still play in the NHL. But will he be back in 2013-14?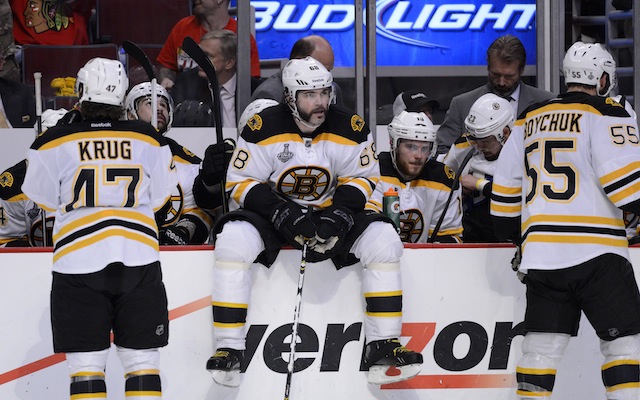 More NHL Playoffs: Scores | TV Schedule | Expert Picks | Odds | Mock Draft | Rumors
The upcoming crop of free agents has to be one of the weakest ones the NHL has seen in quite some time. It's completely lacking in impact players and seems to be nothing more than a lengthy list of players just waiting to be overpaid by some desperate general manager that has large sums of money burning holes in their pockets.
One of the most intriguing names on the list should be current Boston Bruins forward Jaromir Jagr.
The only question is: Will he decide to give it another go in the NHL?
Jagr discussed his future on more than one occassion during the playoffs and while he never made any definitive statement about returning for another year or retiring, he seemed to be leaning toward the former as long as he could find a team willing to allow him to keep playing.
There has to be at least one out there.
Jagr, who will turn 42 next season, isn't anywhere near the player he used to be when he was winning scoring titles and was the most dominant offensive force in the league, but he still showed this season that he has a lot to offer somebody as a playmaking option on the wing.
He's coming off a 2013 season that saw him score him 16 goals to go with 19 assists in 45 games split between the Dallas Stars and Bruins, which is pretty impressive for a guy that was one of the oldest players in the league. His lack of goal-scoring in the playoffs (he didn't score a single goal for the Bruins) will probably raise some red flags with some, but it absolutely shouldn't.
If nothing else during the playoffs he still showed that he can be incredible with the puck and be a playmaking option on the wing, while he was still able to generate a fair amount of chances. Sure, the younger version of Jagr probably would have found a way to put a couple of them into the back of the net, but a lot of his goal-scoring struggles in the playoffs seemed to be more about a guy experiencing some bad luck or a cold streak than a guy whose skills have completely abandoned him.
Quite honestly, I not only believe the Flyers missed him more than anybody figured they would, but that the Bruins benefitted from him more than even they expected. Remember, Jagr was simply their Plan B option after missing out on Jarome Iginla when he was traded to Pittsburgh.
Jagr ended up coming in at the deadline and making quite impact, even without scoring a goal in the playoffs.
Now it's just a matter of which team is going to look past the goose egg in the goal column this postseason and find a place for a dominant puck possession forward that can still help contender.
Hopefully somebody steps up and does it, because the NHL is still a better league with Jagr in it.
Show Comments
Hide Comments
Series schedules, results and updates from the second round of the Stanley Cup race

St. Louis connected on one of five power plays to tie the series while Anaheim loses again...

Ottawa's defense came up big in Game 1 to beat New York, and the Penguins beat the Capitals...
Subban had three points in Nashville's 4-3 win over St. Louis in Game 1, while Edmonton dropped...

Washington and Pittsburgh figure to go neck and neck, as do Anaheim and Edmonton

Cassidy went 18-8-1 after replacing Claude Julien in 2016-17