Wings name Henrik Zetterberg captain, replacing Nicklas Lidstrom
The Detroit Red Wings have themselves a new captain in Henrik Zetterberg.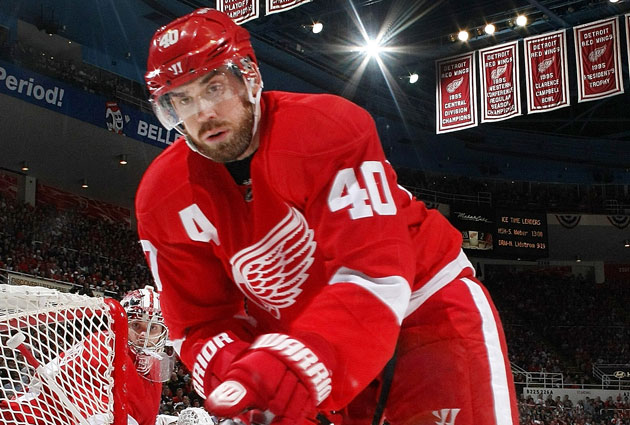 Zetterberg follows in Nicklas Lidstrom's footsteps. (Getty Images)
The Detroit Red Wings have themselves a new captain in Henrik Zetterberg.
When Nicklas Lidstrom retired and his countdown to the Hockey Hall of Fame began, it left a number of sizeable holes for Detroit. One of which was the matter of who wears the C, as Lidstrom had done since 2006 when Steve Yzerman retired. The answer was speculated and then made official on Tuesday as Zetterberg was bestowed with the C.
"It is a true honor to be named Captain of the Detroit Red Wings," Zetterberg said. "It's a very special day. Playing with Nick all my career, you just learn to lead by example."
Even before the reports last week that this is what would happen, it doesn't come as any surprise that Zetterberg was next in line. He was one of the alternate captains below Lidstrom and was a natural to take over the mantle.
The man they call Curly Fries in Detroit becomes the fourth captain the Red Wings have had since the start of the 1982 season, a sign of the stability the Red Wings always seem to have. He is the 36th captain overall in franchise history, just the second European-born player, following Lidstrom.
The 31-year-old Zetterberg is more than just an emotional leader on his team, too. With his 69 points last season he fits the mold of a leader by example. He's one of those players that seems destined to never put on another sweater other than the Winged Wheel.
"Henrik Zetterberg leads by example," GM Ken Holland said. "He understands the responsibility of being the captain of the Detroit Red Wings"
The alternate captains for the Red Wings will be Pavel Datsyuk and Niklas Kronwall.
For more hockey news, rumors and analysis, follow @EyeOnHockey and @StubitsCBS on Twitter and like us on Facebook.
Russian outlets suggest Olympic participation is still on the table, but NHL has repeatedly...

Buffalo's forward suits up in Da Beauty League as he prepares to return to Sabres in 2017-...

Penguins goalie shows support for Thunder Bay's Gavin Currie
Sports Illustrated's 2017 ranking puts the two hockey stars in the top 15 of stylish athle...

The former Blues and Capitals defenseman will wear No. 22 in the Big Apple

New York's captain appears set to play out the final year of his contract in 2017-18