Winnipeg Jets trade rumors, trade deadline outlook
Are the Winnipeg Jets buyers, sellers or something in between?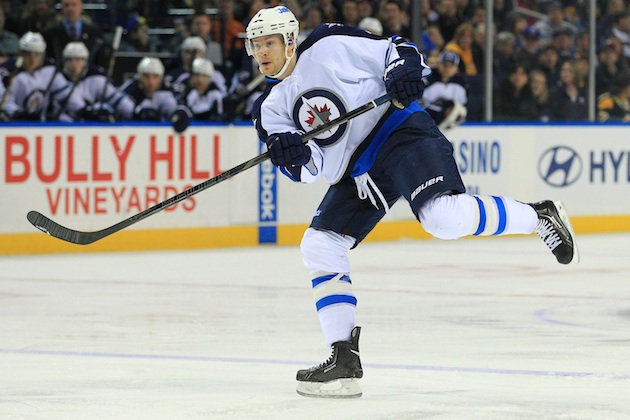 With the 2013 NHL trade deadline at 3 p.m. ET on April 3, Eye on Hockey will examine

whether each team is a buyer or seller at the deadline, and who teams should look to sell or receive.
Buyers or sellers
The Jets are an interesting case.
A couple of weeks ago, they looked like a fringe playoff team. But thanks to a hot streak of their own and a slump by the Carolina Hurricanes, the Jets find themselves in first place in the Southeast Division with a six-point lead. The problem? Carolina still has three games in hand. So there's that.
But the Jets are right in the thick of the playoff race, and it's hard to imagine them being sellers. I'm just not sure what they're going to be in the market to buy, and they shouldn't be trading any of their top young prospects or prime draft picks at this point, either.
Perhaps they're a team that rides it out with what they have and sees how far this current group can take them. It's not like they're completely lacking talent with Evander Kane, Tobias Enstrom, Andrew Ladd, Dustin Byfuglien and Zach Bogosian on the roster.
Rumors
Not many. Fortunately for the Jets, all of the offseason nonsense around Kane seems to have quieted down (perhaps now that everybody in Winnipeg realizes just how good he is).
Back in February, Gary Lawless of the Winnipeg Free Press mentioned defenseman Paul Postma as perhaps Winnipeg's best trade chip for a team searching for size and skill at forward. If that's still the case I'm not sure how much of a return Postma will bring. The 24-year-old has one goal and five assists in 25 games this season while logging just over 14 minutes of ice time per game.
Potential targets
If the Jets are going to buy some forward help, it might be worthwhile given that they are 19th in goals and 19th in shots on goal. But again, I'm not sure what they're going to be able to get with what they have to offer (or more accurately, what they should be offering).
The Jets are committed to Ondrej Pavelec, but I'm not sure how much I trust him in a playoff race (or the playoffs, should it come to that). So perhaps a veteran backup goalie could be something that might be of interest to the Jets. His backup, Al Montoya, has particularly struggled this season with a sub-.900 save percentage in six appearances.
Show Comments
Hide Comments
Series schedules, results and updates from the second round of the Stanley Cup race

Here's how to stay on top of all of the NHL's second-round playoff series, which begin Wed...

Series schedules, results and updates from the first round of the Stanley Cup race
Ottawa took a 3-2 decision to send Boston home, and Washington outlasted Toronto, 2-1

Stevens was L.A.'s interim coach for four games in the 2011-12 season

St. Louis, New York and Edmonton eked out victories that eliminated Minnesota, Montreal and...